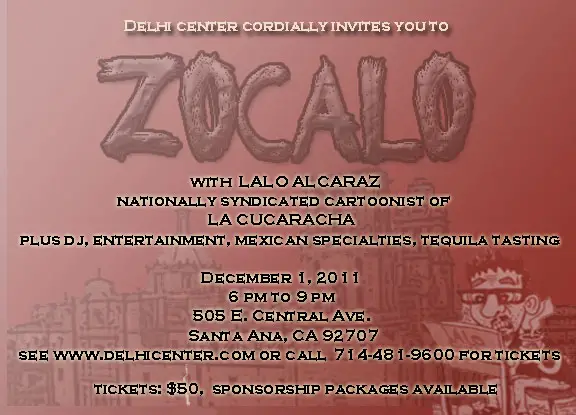 The Delhi Center is hosting a Zocalo event with special guest Lalo Alcaraz, the nationally syndicated cartoonist of "La Cucaracha," which is one of my favorite newspaper comic strips, on December 1, from 6 pm to 9 pm.
Armando de la Libertad, the CEO of the Delhi Center, had this to say about their Zocala event in their event invitation: We have prepared a very special evening for you.  We're promising shorter speeches, great food,  mariachi, tequila tasting, a deejay plus a special audio visual presentation by Lalo Alcaraz — the cartoonist who produces La Cucaracha, the nationally syndicated cartoon."
Tickets cost only $50.  Click here to register online.  The Delhi Center is located at 505 E. Central Ave., in Santa Ana. 
The history of the Delhi neighborhood can be traced back to the 1860′s when two McFadden brothers, originally from Delhi, New York, purchased land and named it Delhi.
In 1969, the Delhi Center was incorporated as a non profit organization by local residents, a nearby church, city officials and the Junior League of Orange County. The organization was established as a referral source for the largely Mexican and Mexican American farmworker community residing in Santa Ana. For more than 25 years, the organization was located within two marine barracks.
In 2001, center leaders achieved a historic milestone and constructed the largest community center of its kind in Santa Ana. With the support of elected officials, community residents, and private sponsors, the Delhi Center opened its doors on December 17, 2001.
The Delhi Center continues to serve as a gathering place for local residents and organizations from throughout Orange County.  It serves as an investment vehicle for those wishing to impact the lives of our most challenged neighbors.  Programs and activities are organized into four areas:  Health, Financial Stability, Education, and Community Engagement.
Annually, the center welcomes over 32,000 individuals through its doors for various programs, services, trainings and events. Its history, perseverance, and impact is a testament to the work ethic of those it serves and the hope that defines its legacy.