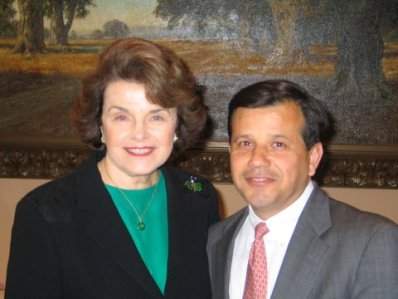 Miguel Pulido, mayor of Santa Ana for the past 20 years, this week moved a step closer to ending speculation about his political future when he picked up the paperwork to run for another term, according to city records, according to the Voice of OC.
I verified this by requesting a list of candidates who have pulled papers, from City Clerk Maria Huizar.
State Senator Lou Correa has been hotly rumored to be running but he has not yet filed any papers with Huizar.
Santa Ana Councilman Roman Reyna, who has only been on the Council since 2012 and previously served only one term on the SAUSD School board, has also pulled papers to run for Mayor.
Somebody named Mark I. Lopez also pulled papers to run for Mayor.  I have never heard of him but I did find an online record for a Mark Inez Lopez, age 46, in Santa Ana.
The Orange County District Attorney's Office and Fair Political Practices Commission launched investigations following a Voice of OC investigative report on a series of transactions, which ethics experts have said could be a bribery scheme. Meanwhile, Pulido has started a legal defense fund and hired prominent criminal defense attorney Al Stokke, according to several sources, according to the Voice of OC.
Pulido will be tough to beat if he can put the investigation behind him.  His only serious opponent would be Correa, if he runs.  Reyna would have no chance of victory and would likely lose badly as did Councilman David Benavides last year and Alfredo Amezcua two years before that.