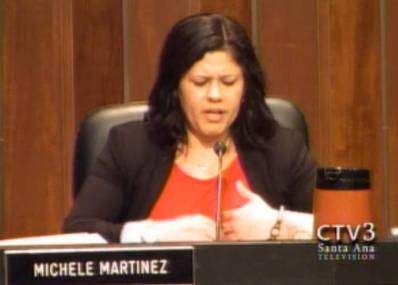 Santa Ana Councilwoman Michele Martinez has drawn another competitor for her Council seat, in Ward 2.  A fellow named Gilad Salmon has pulled papers to run for her seat.  You can check out his Facebook page here.
Salmon contacted me with additional information about him and his campaign.  He says he lives south of First St. but he values Downtown Santa Ana and considers it a great asset as he feels it helps to bring more revenue to the city's coffers.  He also said that he is not a friend of Martinez and that he is not running in order to dilute the opposition vote.  As such I would expect him to pull away male votes and votes from disaffected residents of the Artists Village who aren't overly happy with her leadership.
Salmon wrote a proposal to open a stationary store in Downtown Santa Ana, in the form of a kiosk that would not compete with  Staples and Office Depot but would instead offer cards and stationary from local artists and would also sell pens and  paper and custom goods.  You can read it here.
Salmon also appears to be an avid rock climber and hiker, according to an online source.  And his Linkedin page indicates that he is a web developer and he was involved in various Jewish philanthropies when he was younger and was working in education.  he says that he is interested in providing our youth with the "opportunities they deserve."
The other candidate in this race, Mirna Velasquez, has not pulled papers yet but she has already held one campaign fundraiser and has another one set for tonight.
Candidates have until August 8 to pull papers to run for the City Council.