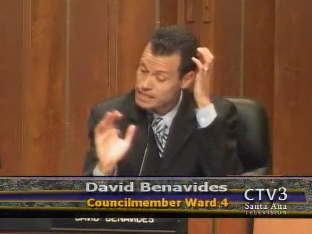 One of the first things that Santa Ana mayoral candidate David Benavides said at this week's candidate forum was "I have a question for you.  Are you okay with the status quo?," according to the O.C. Register.
That is laughable!  Benavides was groomed for office by the man he is now trying to take down, Mayor Miguel Pulido.  And he has spent the last six years voting lockstep with him on just about everything.
Consider what Benavides did the last time term limits came up.  We didn't get mayoral term limits in that instance, instead we got Measure D – which extended the Council terms by four more years!  It was a complete bait and switch.
Now have a look at this Benavides quote, from the same debate:
"When someone has been in office for a quarter of a century," Benavides said, "there is a grip hold that the person is able to have on the city, on our operations, and when there are creative new solutions that are brought forward, they are not taken up…"
Wow.  Am I reading that right?  Is Benavides saying that Pulido made him do it?  Or not do it?  Does Pulido have some sort of Jedi powers? 
The truth is that every single Council Member played ball with Pulido and former City Manager Dave Ream because it benefited them to do so.  It got them plum commission appointments and other perks we may never hear of.  And now these guys would have us believe that they represent some kind of revolution?  It reminds me of that classic Who song, with the refrain "meet the new boss, same as the old boss…"
If you are ready to not be fooled again then you need to look past Benavides and his Council allies.  There is no change to be found there.
Here is how the Voice of OC cited the Benavides hypocrisy:
"There's an individual who holds us back," Benavides replied, saying that Pulido's far-reaching but narrow-minded authority has blocked new ideas and projects. The council majority has accused Pulido of ignoring their will and exercising undue influence over the city bureaucracy.
Pulido has always had exactly ONE VOTE.  He didn't force Benavides and his boys to do anything!  They went along willingly and now they want the power for themselves.
The only revolution in town for many years has been the one I started when I began the Orange Juice blog back in 2003.  For the next 5/6 years I went after the City Council with gusto – and helped toss the worst of them, and their Usual Suspect allies, out. 
In 2009 I met with Alfredo Amezcua and started this blog to help him in his mayoral campaign.  I wasn't too keen on the idea but like many of you I wanted change.  But within a couple of weeks he shifted over to the Usual Suspects and I realized he did not represent any type of change I could believe in. 
I have supported Pulido ever since and you know what?  He has done a good job, along with our new City Manager Paul Walters, and despite the City Council he has been stuck working with. 
I would be open to change now but Benavides isn't change – he is just more of the same thing, but less competent.  I won't support a downgrade!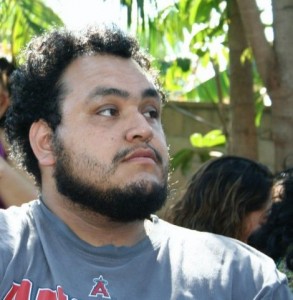 Now if you really want change you do have an option – mayoral candidate and retail store manager Miguel Briseno.  It is obvious that he is the only candidate running now who is at all about change.  Here are a few of the things he said at the debate:
Briseno brought up the city's gang problem, saying he will confront gang members. "I am not afraid of talking to them directly," he said.
He said that the city should hold quarterly business workshops and encourage Santa Ana residents to start businesses, and entice other businesses to come to the city.
I am told he also had some idea involving kids drawing motivational posters.
And my favorite – he went on a campaign bus tour on Sep. 10!  Click here to read about that.
Never mind the other mayoral candidates.  Lupe Moreno is a one issue candidate.  George Collins agrees with her on almost everything.  Roy Alvarado isn't showing up to the debates. 
I am sticking with Pulido but if you want change don't look to Benavides.  Go with Briseno and you will get all the change you can handle!