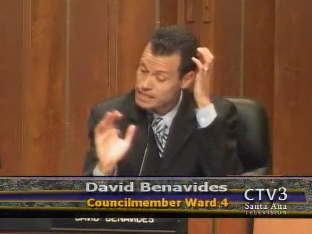 One of the first things that Santa Ana mayoral candidate David Benavides said at this week's candidate forum was "I have a question for you.  Are you okay with the status quo?," according to the O.C. Register.
That is laughable!  Benavides was groomed for office by the man he is now trying to take down, Mayor Miguel Pulido.  And he has spent the last six years voting lockstep with him on just about everything.
Consider what Benavides did the last time term limits came up.  We didn't get mayoral term limits in that instance, instead we got Measure D – which extended the Council terms by four more years!  It was a complete bait and switch.
Now have a look at this Benavides quote, from the same debate: Continue reading→