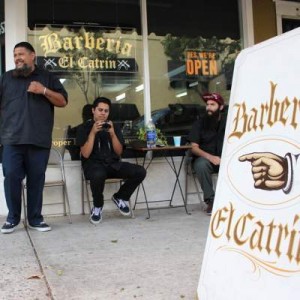 Mayor Miguel Pulido presented Carlos Landeros, the owner of El Catrín Barbershop, with the Exceptional Citizen Award for his outstanding service to the City of Santa Ana at Tuesday night's City Council Meeting.
"Catrín" a Spanish term used to capture the spirit of a traditional dapper gentleman embodies what you will find at Landeros' barbershop – a classic, vintage styled shop focused on quality haircuts, classic shaves, attentive service, and a cool vibe.
A veteran who served in the United States Navy, Landeros opened "Barbería El Catrín" on Fourth Street in December 2010.
Today, Landeros is the epitome of what a downtown Santa Ana business owner should strive for. With a strong following of loyal customers that continues to grow every day, Landeros and his team of licensed barbers are passionate about providing a top-notch service in a friendly and inviting environment, according to a City of Santa Ana press release.