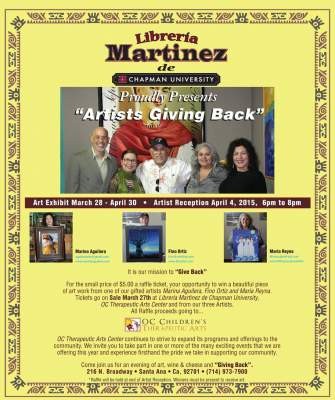 Orange County Children's Therapeutic ARTS Center
LIBRERIA MARTINEZ DE CHAPMAN UNIVERSITY PROUDLY PRESENTS "ARTISTS GIVING BACK" TO BENEFIT ORANGE COUNTY CHILDREN'S THERAPEUTIC ARTS CENTER
Raffle tickets now on sale to win one of three art pieces
Santa Ana, CA: Librería Martínez de Chapman University and Orange County Children's Therapeutic Arts Center (OCCTAC) cordially invite you to visit their exhibit, "Artists Giving Back," from March 28 through April 4, 2015 at Librería Martínez de Chapman University (LMdeCU). Chapman's College of Educational Studies community-based downtown bookstore will host the exhibit featuring works by professional artists Marina Aguilera, Fino Ortiz, and Maria Reyna. Each of the artists has selected a piece of their work to be raffled off with proceeds benefitting OCCTAC in Santa Ana. Raffle tickets are available for $5.00 each, 3 for $10; 7 for $20, or 15 for $50. Winners of the three featured art pieces will be announced at the end of an Artist Reception to be held on April 4th from 6 to 8 p.m. at LMdeCU. Winners must be present to receive art.
Raffle tickets are available for purchase at LMdeCU, OCCTAC, and from the participating artists. LMdeCU is located at 216 N. Broadway in Santa Ana and is open Tuesday through Thursday and on Saturday from 10:30 a.m. to 6:30 p.m., and Friday 4-8 p.m. OCCTAC is located at 2215 N. Broadway in Santa Ana and is open from 11 a.m. to 8 p.m. Monday through Friday and 9 a.m. to 2 p.m. on Saturday.
All proceeds from raffle ticket sales will be donated to OCCTAC to support a variety of arts program for at-risk and special needs youth. OCCTAC is a Santa Ana, CA based non-profit (501c3), organization that offers a wide variety of music, art, and dance classes to children and youth of limited resources. The mission of OCCTAC is to provide innovative, artistic, educational and therapeutic programs that inspire and transform children, at-risk youth, and their families to fulfill their highest potential. Founder & Director Dr. Ana Jimenez-Hami is a recognized advocate for Orange County families, at-risk youth and children with special needs.
The professional artists who have generously donated a piece to benefit OCCTAC's arts programming are: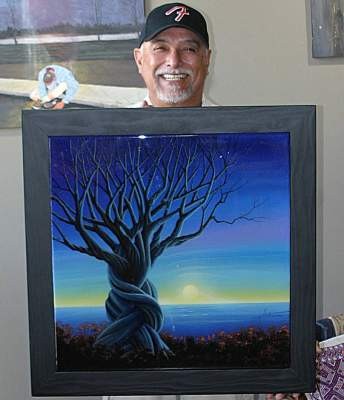 Fino Ortiz: Fino Ortiz is an award-winning artist who works with a variety of mediums. Born in Denver, Colorado and reared in Southern California, as founder of Fino Visual Communications, Fino works with clients ranging from local Orange County businesses to multinational companies in addition to creating original artwork for galleries and showings. Mr. Ortiz is donating his piece "The Tree Of Life" to the fundraiser. "Tree of Life is a 29 x 29 acrylic, iridescent and metallic paint, painted on wood. Mr. Ortiz explains his motivation to donate a piece of art to benefit OCCTAC: "When you see the positive impact OC Therapeutic Arts Center gives our children, you can't help but want to be a part of it. Watching children learn and discover their positive creative side for the first time is exhilarating. We all have a dream – let us show our children it is obtainable and with passion and work, we can all achieve our dreams." More information about Mr. Ortiz and samples of his work are available at http://www.finoortiz.com.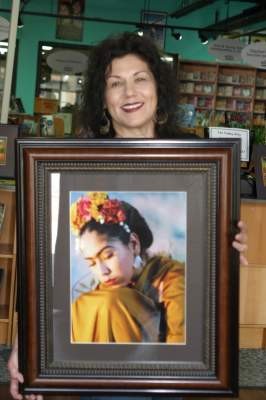 Marina Aguilera: Born and raised in Santa Ana, Marina is a third generation Mexican American deeply rooted in Orange County California. From the time Marina held a pencil in hand, her insight and imagination flourished. Marina's love of the arts continued to grow to the well-known artist she is today. Marina Aguilera has created works for art collectors from celebrities to dignitaries to public officials. Marina represents and embraces her beautiful and multifaceted culture. Ms. Aguilera is donating a piece of her photography, "Thoughts running deep within me." In this portrait, she wanted to capture the reflections, feelings and creativity of one's true self. As Ms. Aguilera says about the piece, "I feel this represents what the cause is all about – providing the means and allowing the opportunity to express one's self with creativity through the arts." Samples of her work can be viewed at http://www.marinaaguilera.com/.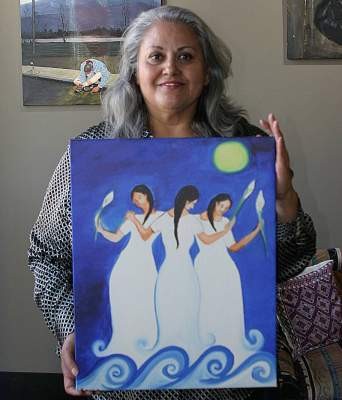 Maria Reyna: Painter, photographer and poet Maria Reyna is a woman who unabashedly pursues her passions in creating fascinating, beautiful and sometimes controversial works of art. Born in Ciudad Obregon Sonora, Mexico, she arrived in the United States at the age of four and grew up in the deserts of Arizona until the age of twenty one. She first moved to California in 1983 and has been a resident of the Santa Ana for the last several years. Her current artisMartic pursuits include painting, working in mixed-media, and serving as a contributing writer to LatinoLA.com. Maria Reyna is donating her piece "Three Sisters" to this fundraiser. Ms. Reyna explains her motivation for participating in this fundraiser: "My two passions in life are children and art. At one point in my life I seriously considered becoming an art therapist. When I heard about OCCTAC, I thought this is something I believe in and I can give back to a good cause." A sampling of her work can be seen at http://mreyna.deviantart.com/.
OCCTAC Founder and Director Dr. Ana Jiménez-Hami says, "What better way to raise money to provide quality art and music training for Santa Ana youth than through a raffle of the work of professional artists? OCCTAC is honored to have been selected by these talented, generous artists for this wonderful fundraiser and grateful for any donations that help support our mission to use the arts to help youth and their families reach their highest potential. Many thanks to LMdeCU Events Director Dr. Mac Morante, for organizing this event."
The exhibit will also feature additional works for sale by each of the participating artists. The public is encouraged to come join the College of Educational Studies, Chapman University, and Orange County Children's Therapeutic Arts Center on April 4th at Librería Martínez de Chapman University for an evening of art, wine & cheese and "Giving Back."
For more information about Librería Martínez de Chapman University, see http://www.chapman.edu/ces/lmdcu/ or contact Dr. Anaida Colón-Muñiz, Ed.D., Associate Professor and Director of Libreria Martinez de Chapman University Community Education Programs at 714.744.7955 or acolon@chapman.edu.
For more information about OCCTAC, see www.occtac.org or contact Dolores Ramos, OCCTAC Special Events Consultant at 714.335.1387 or mdoloresr1@gmail.com.
###
Orange County Children's Therapeutic ARTS Center
2215 North Broadway Santa Ana, CA. 92706 (714) 547 – 5468 www.occtac.org