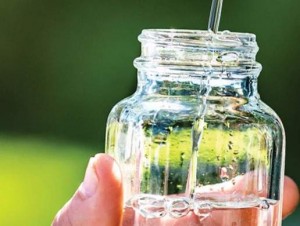 City of Santa Ana, Downtown Orange County
Community Alert: Online Consumer Confidence Report (CCR) Now Available to Residents Santa Ana's Water Quality Report Goes Green

SANTA ANA, CA (June 12, 2013) – The City of Santa Ana unveiled its new online Water Quality Report, officially called the annual Consumer Confidence Report (CCR), at www.SantaAnaCCR.org. This annual report is designed to help consumers make health-based decisions regarding their consumption of tap water and offer them water conservation tips to save costs.
"Creating an environmentally friendly future is an important initiative for Santa Ana, which is why we were excited about recent changes in regulations enabling us to deliver our CCR in an electronic format," explains Raul Godinez, Executive Director of Public Works, City of Santa Ana. "This eco-friendly change in requirements made by the California Department of Public Health not only helps us conserve our natural resources, but it also saves the City a significant amount in production and mailing costs each year."
The simple, yet visually compelling site is designed to provide consumers direct access to important information that is easy to understand and navigate. The centerpiece of the report is a comprehensive chart summarizing the City's year-round testing and monitoring of water in 2012. Also included are details about the sources and quality of water the City delivers to customers, as well as other articles of interest and tips such as facts about bottled water, reading your water meter, Santa Ana's award winning water projects, FOG program, and historic water tower.
"We are particularly proud to highlight the City's award winning public works projects in this year's report, a summary of the special recognition and accomplishments we've earned over the past twelve months," adds Nabil Saba, Interim Water Resources Manager, City of Santa Ana Water Resources Division.
Santa Ana water customers can visit www.SantaAnaCCR.org to view the information online, print select articles, or download and print their own copy of the entire report. While the City is publishing a limited number of hard copies, which will be available upon request, customers are encouraged to enjoy the convenience of viewing their report online.
As part of a public awareness campaign about the new online Water Quality Report, notices were printed on water bills and special bill inserts mailed to customers as well as emailed to those who receive ebills. The Water Resources Division has also displayed announcements at 25 bus shelters throughout the city. And for those with smart phones, a quick scan of a special QR code provided throughout the new campaign takes them to the site effortlessly.
The City of Santa Ana Public Works Agency, with its four divisions and professional staff of more than 200 employees, is responsible for the city's infrastructure and quality of life. The agency builds and maintains all public streets, storm drains, sewers, and water facilities, as well as coordinates refuse collection and recycling, street sweeping, public right-of-way landscaping, and graffiti removal. It also ensures the community enjoys high quality drinking water and is able to travel around the City efficiently through the use of a state-of-the-art traffic management system, and collaboration with neighborhood associations and developers to resolve speeding, parking, and traffic problems.
###