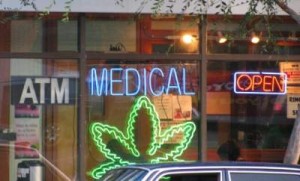 City of Santa Ana, Downtown Orange County
Advisory: CITY OF SANTA ANA CONTINUES PROACTIVE ENFORCEMENT ON ILLEGAL POT SHOPS

Marijuana Dispensaries issued notices to cease operations or face continued enforcement action
SANTA ANA, CA (June 11, 2013) – The unanimous California Supreme Court decision on May 6, 2013, in the City of Riverside v. Inland Empire Patient's Health and Wellness Center validated a city's authority to ban medical marijuana dispensaries. The City Attorney's office reviewed the City's current ordinance, compared it to that of the city of Riverside, and found it to be substantially similar.
Thus, the city of Santa Ana has closed a majority (42) of the dispensaries through cease operations orders. Both the U.S. Attorney's Office and the City will be sending additional letters to the 17 dispensaries known to be still in operation. These letters will be followed by inspections and further enforcement action. Dispensaries refusing to cease operations and that continue to ignore the City's ban and enforcement orders will be issued criminal citations. Additionally, the City Attorney's Office will continue its work on the most problematic locations with the intent of filing civil action. The Santa Ana Police Department with the assistance from the Drug Enforcement Administration will continue their collaborative efforts to rid the city of these illegal businesses.
The City of Santa Ana is committed to continued proactive and comprehensive enforcement. To date, the City has successfully closed 109 illegal dispensaries over the last two and a half years.
###