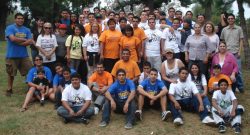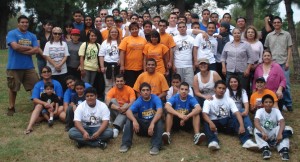 Will Team Martinez be sufficient to elect Alfredo Amezcua?
For Alfredo Amezcua to become the next Mayor of Santa Ana, he would have to surpass the number of votes that Councilwoman Michele Martinez received in 2008, when she challenged Mayor Miguel Pulido.

Martinez received 29.3% of the vote that year, according to Smart Voter.  The coalition that backed her was pretty much the same folks who are backing Amezcua now, although Amezcua has added a few of Santa Ana's notorious Usual Suspects to the mix.
George Collins, a Republican documentary filmmaker, received 13.8% of the vote, in that same election.  A fourth challenger, Stanley Fiala, received 1.9% of the vote.
This year Pulido has once again drawn several opponents, including Amezcua and Collins.  Additional candidates include Roy Alvarado, a retired contractor, and a fellow named Charles Hart, who has made religious values and implied racism the cornerstone of his campaign.
Even if Amezcua were to merit the same amount of votes as Martinez did in 2008, he would still lag Pulido, by a large margin.  Pulido received 55% of the vote in 2008, and he is likely to repeat that feat this year.
Figure that Collins may get about the same amount of votes this time.  And Fiala is out – having been replaced by Hart, who figures to do about as well as Fiala did.  (The market for uber-conservative Republicans in Santa Ana is a slim one at best).
Where does that leave Amezcua?  Up the creek, without a paddle.
To make matters worse for Amezcua, Collins is serious about winning.  He figures that Pulido and Amezcua will split the Latino vote, and Alvarado and Hart won't campaign much – and won't get many votes.  Collins previously ran for City Council in 2006, denying Pulido's pick that year, Jennifer Villasenor, from winning in Ward 6, and allowing Sal Tinajero to prevail although he was vastly outspent.
Amezcua told a politician I know, back in 2006, that Martinez was essentially his trial balloon.  The only problem with that notion is that Amezcua is running this year from the very same malcontent playbook.  It didn't work in 2006.  Will it work this year?  We'll have to wait and see.