There has been a lot of recent discussion on building more Affordable Housing in the city of Santa Ana, but we also need to look at the quality and standard of housing currently being provided in our city. An article from last year, described the housing conditions in the Lacy Neighborhood:
"Isabelle Lopez, her husband and their dog live in a tiny room, perhaps 130 square feet, in the impoverished Lacy neighborhood in the Orange County city of Santa Ana. The room has cardboard walls, which Lopez's husband painted white to provide at least an illusion they were solid. On those walls, she has tacked family photos and a large reproduction of a painting titled Angel de la Guarda, surrounded by cutout paper butterflies."
So how many people are allowed to live in one residence?
California Uniform Housing Code 503(b) determines the number of people allowed to live in a residence. Some believe it's based on the number of bedrooms, but it's actually based on the amount of square footage of livable space (bedroom, living room, and dining room) in a residence.
"The California Health and Safety Code is mostly the same as the Uniform Housing Code. The Uniform Housing Code requires that residential units have at least one room with an area of at least 120 square feet and that other rooms to be lived in be at least 70 square feet. If more than two people sleep in a bedroom, it must be at least 50 square feet larger for every additional occupant sleeping in that room."
The city of Santa Ana was involved in a lawsuit in the 90's (Briseno vs. Santa Ana) that determined the California Health and Safety Code supersedes our city's municipal code.  The lawsuit was based on a family of five living in a one bedroom apartment. At the time, the city municipal code stated there need to be a minimum of 170 square feet for two people, but state code required a minimum of 120 square feet for two people.
What about parking?
Recently, several Santa Ana residents having spoken out about how the house next door to them is being rented out, and between 10 to 20 people live there. The reason they bring this up is because there is also between 5 to 10 cars belonging to that same rented house who then take up most of the parking on the street. There is an unwritten rule that you or your guests should be able to park on the street directly in front of your own house. Because of the overcrowded street parking issues in our city, people have resorted to leaving cones or trash cans in front of their house on the street to save parking spaces. When the city advises residents to apply for Parking Permits to address the parking issue on their street, they say they have applied for Parking Permits, but it doesn't pass because most of the houses on their street are rented out instead of owner occupied.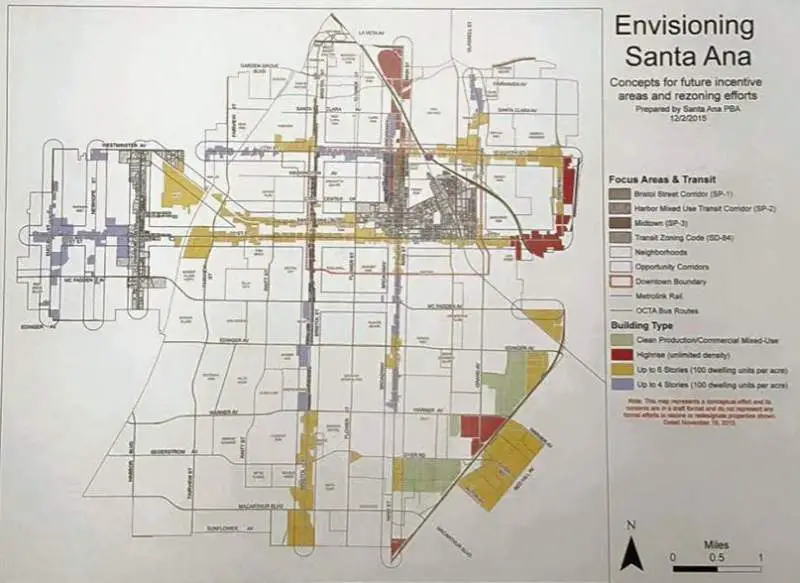 What about new housing being built?
The city of Santa Ana currently has over 2500 new housing units in the pipeline to be built soon, but as most of us already know the Developers typically pay an in-lieu fee to the city instead of providing units of affordable housing. The Planning Dept has a vision for new housing in our city and you can see their Envision Santa Ana maps to see what the future of Santa Ana looks like.
Fun Fact: the size of a jail cell played a part in determining the 120 sq ft minimum. Otherwise most jail cells (8 x 16 = 128 sq ft) would not be in compliance with the Uniform Housing Code.