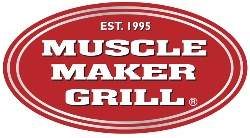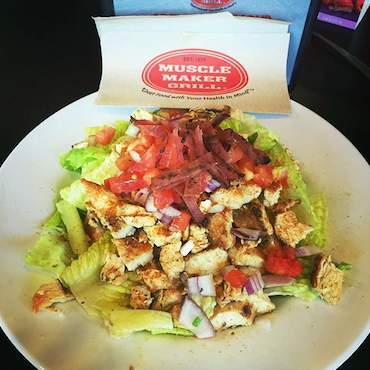 HAPPY NOT-FAT TUESDAY! MUSCLE MAKER GRILL OFFERS FREE MARDI GRAS GRILLED CHICKEN SALAD TO WELL-WISHING GUESTS ON FEBRUARY 28
Rapidly Growing, Health-Focused Fast-Casual Brand Celebrates Mardi Gras with FREE Guiltless Entrée
HOUSTON, TX (February 16, 2017) – To help health enthusiasts celebrate Mardi Gras, without baring it all, Muscle Maker Grill®, the rapidly expanding fast-casual restaurant brand, promoting a healthy lifestyle by offering nutritious alternatives to traditional dishes, today announced that it will offer one FREE Mardi Gras Grilled Chicken Salad to any guest that wishes a Muscle Maker Grill employee a Happy not-Fat Tuesday on February 28th.
Committed to providing healthier fuel for your active lifestyle, Muscle Maker Grill locations will let the good times roll without the regret this Mardi Gras with its Mardi Gras Grilled Chicken Salad (390 calories,11g carbs,44g protein): Cajun seasoned grilled chicken breast on a power blend of romaine, spinach and baby kale with turkey bacon, tomatoes, onions and low carb salsetta dressing. Offer valid at participating locations.
"We love the flavors that are synonymous with the lively Mardi Gras atmosphere, but we want to offer diners a healthier way to celebrate without any remorse," said Robert E. Morgan, President and Chief Executive Officer of Muscle Maker Grill. "On Tuesday, February 28, we invite guests to visit Muscle Maker Grill and wish us a Happy not-Fat Tuesday where they will be rewarded with one free Mardi Gras Grilled Chicken Salad. We look forward to celebrating this fun day with guests dining in as well as those on the go without derailing their journey for a healthier lifestyle."
Offer available only on February 28, 2017 at participating locations.
Limit one per customer.
Offer valid in-store only.
Cannot be combined with any other offer.
Guest is required to say "Happy Not-Fat Tuesday" to a Muscle Maker Grill counter employee.
As an added bonus, guests will receive a FREE tray of Mardi Gras Grilled Chicken Salad for catering orders of $100 or more upon mention of promo code NFT.17. Orders must be placed by calling your local Muscle Maker Grill (Irvine and Santa Ana orders should be made by calling 1-800-989-8779). Guests can view the catering menu by visiting https://musclemakergrill.com/catering/. Valid from February 27 to March 3 at participating locations. Cannot be combined with any other offer.
Founded in 1995, Muscle Maker Grill began franchising in 2007 to provide its guests healthier versions of mainstream-favorite dishes that taste great, making it convenient, affordable and enjoyable to eat healthy. Muscle Maker Grill's diverse menu was created for everyone – fitness enthusiasts, those starting their journey to a healthier lifestyle, and people trying to eat better while on-the-go. Providing "Great Food with Your Health in Mind," Muscle Maker Grill's menu features items with grass-fed steak and all-natural chicken, as well as options that satisfy all dietary preferences – from the carb-free consumer to guests following gluten-free or vegetarian diets. Muscle Maker Grill does not sacrifice taste to serve healthy options.  Now, guests can have delicious, nutritionally balanced food without the regret. More than just food, Muscle Maker Grill corporate and franchised restaurants are a friendly, relaxed and social environment where guests can enjoy great-tasting food and engage with fellow health enthusiasts in their area.
For more information on Muscle Maker Grill and its menu, visit www.musclemakergrill.com. Muscle Maker Grill also can be found on Facebook, where fans can participate in online promotions, engage with other health-conscious individuals and receive updates on new menu items, store openings and tips on how to live a healthy lifestyle, and its Muscle Maker Grill TV YouTube Channel.
About Muscle Maker Grill
Muscle Maker Grill features high-quality, great-tasting food, freshly prepared with guest's health in mind. Its lean, protein-based menu features chicken, seafood, pasta, wraps, and entrée salads. Muscle Maker Grill also offers a wide selection of fruit smoothies in a variety of assorted flavors, protein shakes and supplements. With offices in New Jersey and Houston, TX, Muscle Maker Grill has more than 50 franchised and corporate restaurants in 17 states. For more information on Muscle Maker Grill, including how to become a franchise partner, visit www.musclemakergrill.com.
Muscle Maker Grill is located in Santa Ana at the City Place at 2775 N Main St, Santa Ana, California 92705. Phone (714) 543-2584.