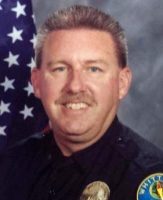 There was a commotion in Santa Ana today as the body of Keith Boyer, a 25-year veteran of the Whittier Police Department, arrived at the O.C. Coroner's office, located at 1071 W. Santa Ana Blvd. Our readers reported that police from various agencies turned out to honor Boyer as a police helicopter flew overhead.
Earlier this morning dozens of police officers from different agencies formed two lines to honor Boyer, as his body was wheeled out between them and placed into the Orange County Coroner's white Chrysler van at the UCI Medical Center in Orange, according to the O.C. Register.
The Coroner's van then drove to Santa Ana where more police officers congregated to mourn Boyer's murder.
Three Whittier Police Department officers, including Boyer, responded to the scene of a traffic collision at about 8 a.m. this morning when a heavily tattooed 26-year-old, recently paroled gangbanger driving a stolen car opened fire on them with a semiautomatic pistol, according to the L.A. Times.
Boyer was killed and another officer was wounded but survived. The officers returned fire and injured the gangbanger who was hospitalized.
The alleged gunman, who is expected to survive, is also a suspect in homicide that happened in East LA.. Police investigators believe that he stole a vehicle on Sunday morning after killing a man, then drove into Whittier, where he attacked the police. The suspect was a known gangbanger who was released from prison on early parole about 10 days ago.