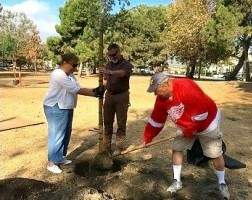 Get ready for another tree planting opportunity here in Santa Ana, hosted by the folks at the nonprofit organization People and Trees, Inc. This planting will take place this Saturday, March 16, from 8:30 am to 10:30 a.m. at the front-left side of the lake in Santa Ana's Centennial Park close to its main entrance.
A total of 10 Ash trees and 3 Fern trees will be planted. The Ash trees, as they grow, will give shade for people to sit and enjoy the view. The fern trees will provide shade for cars in the adjacent parking lot.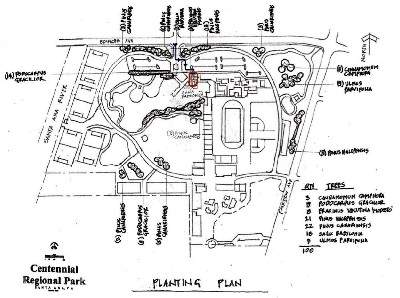 Directions to Planting Site:

Enter Centennial Park through is main entrance (from Edinger Ave) and park in the first parking lot on its left, close to the lake.
From there, walk around the lake on the sidewalk on its left to the planting site on the opposite side of the lake.
On the map below, this path is shown blue, solid for driving and dashed for walking, and planting spots are circled red.
Those who are going to come to plant trees with please RSVP to this email address: PeopleAndTreesOC@gmail.com.