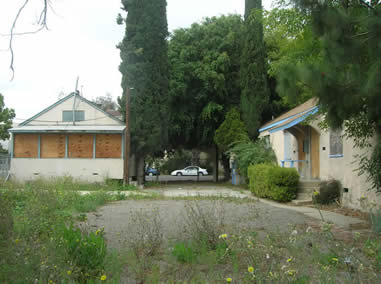 Santa Ana Historical Preservation Society
Press Release
Architectural Salvage Materials Available RIGHT NOW!
May 23, 2011: As part of a recent settlement agreement with the City concerning certain vintage properties in the Lacy Neighborhood, Santa Ana Historical Preservation Society is conducting emergency architectural salvage over the next week. Because of time and storage limitations we are offering cut-rate prices on salvage items to local individuals (no dealers please) who can come to the site and haul away items as they are pulled out. We want to keep these items in the hands of Orange County residents if at all possible!
Our salvage must be completed by May 30th, so this is a great opportunity for those of you engaged in (or contemplating) remodeling or restoration. The structures being salvaged range from 1890s to 1930s and contain beautiful hardwood. Items are in various conditions, some pristine, some with minor damage, and all are sold "as is".
Some of the many items include:doors and surrounds (some gumwood)windows (casement and double hung)claw foot tubs (with and without feet)corner bathroom sinks and full country kitchen sinksbuilt in dining room and kitchen cabinetsMurphy beds (with complete hardware, some with doors)California coolers and shelvesmirrored medicine cabinetsbuilt in window seatspicture rail, baseboards, chair railsmall gas stovesmail slotsVictorian corner fireplace and mantledecorative pillarsfull hardwood staircase and banisterspocket doorspillars
If you are interested – Please contact Lisa Pitsenbarger at 714-788-9148 IMMEDIATELY to arrange to come view items and get a price quote.
Remember we must have all salvage completed by Monday, May 30th. Proceeds benefit the Santa Ana Historical Preservation Society!
Please visit www.SantaAnaHistory.com for more information on the society and don't forget to subscribe!