NEW COMMUNITY PARK GROUNDBREAKING SET FOR 6TH AND LACY THIS SATURDAY! ¡CEREMONIA DE INICIO DE CONSTRUCION PARA PARQUE COMUNITARIO!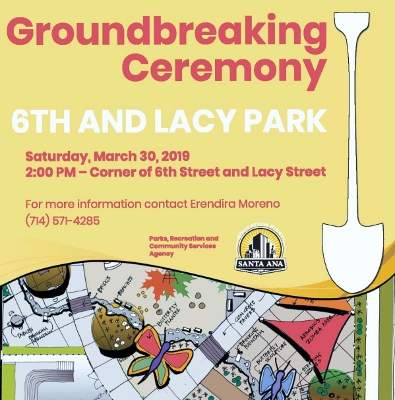 SANTA ANA, CA – The City of Santa Ana is hosting the groundbreaking of a new community park at the corner of 6th and Lacy. When open in late summer/early fall, the park will include an interactive playground, picnic areas, skate element, drinking fountains, shade structures, bridges, and granite walkway. Along with the functional amenities of the park, two large butterfly sculptures will be installed and flowers planted within the butterfly wings of the sculptures that change annually. These sculptures will act as living, growing art installations and their colors will enhance the beauty of this new park. In addition to the blooming art installations, land elements such as drought resistant plants, trees and bio swale will be incorporated into the green infrastructure and will also enhance the overall biodiversity of the park.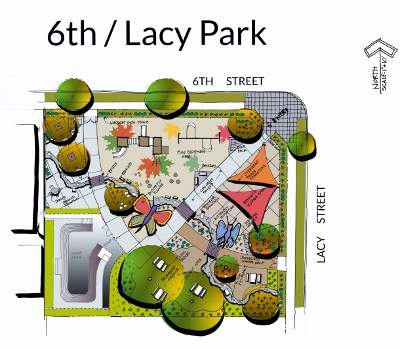 The groundbreaking ceremony will take place on Saturday, March 30, 2019 at 2:00 p.m. and is free to the public; no RSVP is needed.
For more information, please contact Community Service Supervisor Erendira Moreno at (714) 571-4285 or email Emoreno@santa-ana.org.
¡CEREMONIA DE INICIO DE CONSTRUCION PARA
PARQUE COMUNITARIO DE CALLES 6ta Y LACY!
SANTA ANA, CA – La Ciudad de Santa Ana les invita a la ceremonia de inicio de construcción del nuevo parque comunitario en la esquina de las calles 6ta y Lacy. Cuando abra el parque a finales del verano/inicio de otoño, el nuevo parque ofrecerá una zona de juegos interactivos, áreas para picnics, elemento de patinaje, fuentes de agua, estructura para sombra, puentes y veredas de granito. Junto con las instalaciones funcionales del parque, también se colocarán dos grandes esculturas en forma de mariposa con flores plantadas e intercambiables anualmente sobre las alas de las esculturas. Estas esculturas actuarán como instalaciones de arte vivo y sus colores realzarán la belleza de este nuevo parque. Al igual que las florecientes instalaciones de arte, elementos terrestres como plantas resistentes a la sequía, árboles y un bio-canal de drenaje serán incorporados a la infraestructura verde para mejorar la biodiversidad general del parque.
La ceremonia se llevará a cabo el sábado, 30 de marzo del 2019 a las 2:00 p.m. y esta abierto al público; reservaciones no son necesarias.
Para obtener más información, comuníquese con Erendira Moreno, Supervisora de Servicios Comunitarios al (714) 571-4285 o Emoreno@santa-ana.org.