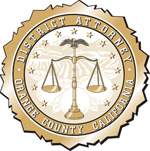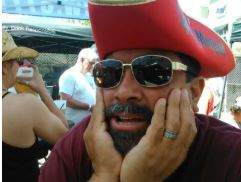 The OCDA filed a letter today, Friday, March 29, indicating that 47-year-old Phillip Andrew Diaz, Jr., who died after SAPD police officers tried to restrain him, died because of drug intoxication.
On Monday, July 23, 2018, at approximately 10:52 a.m., the SAPD received a call that two males were fighting inside an apartment unit at 3400 block of South Plaza Drive in Santa Ana. Two officers were dispatched to the location. Officer Buan arrived on the scene first, at approximately 11:02 a.m., and parked south of the unit. Officer Buan stood in the parking lot
below the south facing window of the unit and heard yelling coming from inside the apartment. Officer Catlin arrived at approximately 11:04 a.m., and both he and Officer Buan saw a male, wearing a white t-shirt, slam against the east-facing window of the unit.

Both officers entered the locked, gated apartment courtyard after a maintenance worker let them in. The officers approached the bottom of the outdoor stairs and stood beneath the unit. Upon hearing screaming coming from inside the apartment unit, Officer Buan asked for additional units to assist with the call. Officer Buan called up to unit B, saying, "It's the SAPD, come out, we just want to talk to you." Approximately 20 seconds later, Diaz exited the front door of the apartment unit. Diaz was drenched in perspiration, wore a white t-shirt, no underwear, and had his pants down around his ankles. Officer Buan said, "Hey bud, come out here."
Diaz quickly descended the apartment stairs. He had a clenched jaw, rigid muscle tone, wide eyes, and was profusely sweating as he attempted to run past the officers. Diaz's speech was incoherent and his movements were rapid. Given his behavior, the officers believed Diaz was under the influence of a stimulant. Officer Catlin received narcotics training in the academy, as well as a specialized course, where he learned to recognize symptoms of narcotics use. Officer Catlin stated that Diaz displayed the common symptoms of rigid muscles, bruxism, and highly active perspiration as he came down the stairs. Officers Buan and Catlin grabbed Diaz by the arms and shoulders to stabilize him, and repeatedly told him to relax.

While detaining him, Officer Buan recognized Diaz from a previous incident of battery on Diaz's father approximately one week prior. Diaz refused to comply and aggressively resisted the officers' attempts to restrain him. Because Diaz continued to struggle and shout unintelligibly, the officers took hold of Diaz's upper body and laid him on the grass, to handcuff him in a controlled manner. According to Officer Buan, they chose to take Diaz to the ground so that they could control him, then check the interior of the apartment for other involved or injured persons. Upon handcuffing Diaz, the paramedics were called.

Officer Park arrived on scene shortly after. Diaz was still screaming and kicking, so Officer Park helped the officers by taking hold of Diaz's legs. Officer Park stated Diaz was fairly strong and continued to resist all three officers. After securing Diaz on the ground, Officer Buan stood up with the intent to check the apartment unit, but Diaz began resisting again. Officer Buan was unable to check the apartment unit and stayed on the ground with the other officers to control Diaz.

Diaz continued to struggle and scream, "Let me out." Officer Catlin placed his right shin on Diaz's back and Officer Buan placed his right shin on Diaz's buttocks to control his movements. The officers repeatedly told Diaz, "You're all right, calm down," and reassured him that paramedics were on their way. Diaz continued to be non-compliant and actively resisted their attempts to control him. Witnesses in the surrounding area stated that they did not see the officers use any other force or weapons to control Diaz, and they acted appropriately.

Approximately two and a half minutes after Diaz came out of the apartment, Diaz was alert and screaming, with his head up and eyes open. The officers asked Diaz's name. Diaz yelled his first and last name in response. Approximately 30 seconds later, the officers then asked who else was in the apartment. Diaz screamed, then moaned at a lower volume and stopped resisting. Within 30 seconds, at approximately 11:09 a.m., Officer Catlin patted Diaz on the back and called his name, but Diaz failed to respond. After approximately 10 seconds, Officer Catlin called Diaz's name again, but Diaz was unresponsive.
Officers Buan and Catlin were unable to locate a radial pulse. They rolled Diaz on his side and were unable to find a carotid pulse, at which point Officer Buan initiated chest compressions. Simultaneously, Officer Catlin ran to his car and retrieved a first aid kit that contained Narcan, which is a nasal spray used for the treatment of an opioid emergency or possible opioid overdose. Officer Catlin administered one dose of intranasal Narcan to Diaz, without effect. Officer Buan continued chest compressions until the paramedics arrived at 11:11 a.m.

The paramedics confirmed that Diaz had no pulse or respirations. The paramedics continued CPR and placed Diaz on a cardiac monitor, which showed that he was in cardiac arrest. They administered epinephrine and transported Diaz to South Coast Global Hospital in Santa Ana at approximately 11:26 a.m. At approximately 11:34 a.m., Diaz arrived at the hospital and Advanced Cardiac Life Support (ACLS) protocols were continued. The medical staff was unable to revive Diaz and he was declared deceased at 11:49 a.m.
The following items of evidence were collected and examined:

21 photographs of the crime scene
Pair of blue "Dickies" trousers
Two Narcan (4mg) nasal spray devices (one used spray and one unused spray)
On July 25, 2018, Forensic Pathologist Dr. Yong-son Kim with the Orange County Coroner's Office, conducted an autopsy of the body of Phillip Andrew Diaz, Jr. During the autopsy, Dr. Kim found no evidence of internal trauma or hemorrhage, but did note severe swelling of the brain, which is consistent with a drug overdose. The autopsy of Diaz revealed he had a fatty liver and mild coronary artery disease. Dr. Kim determined the cause of death to be acute polydrug intoxication as a result of combined effects of amphetamine and methamphetamine, and the manner of Diaz's death to be an accident.
Legal Analysis
There is no evidence whatsoever in the present case of express or implied malice on the part of any SAPD personnel or other individuals under the supervision of the SAPD. Accordingly, the only possible type of homicide to analyze in this situation is murder or manslaughter under the theory of failure to perform a legal duty.

Although the SAPD Officers owed Diaz a duty of care, the evidence does not support a finding that this duty was in any way breached, either intentionally (as required for murder) or through criminal negligence (as required for involuntary manslaughter).

The SAPD's contact with Diaz, from initial observation to resuscitation efforts, was approximately three minutes. When Officers Buan and Catlin initially approached, they saw a male in a white t-shirt slammed against a second story apartment window. They called out for the occupant and asked him to come out and talk to them. Diaz exited the apartment, and based on his appearance and behavior, it was apparent to the officers that he was under the influence of narcotics, which was subsequently confirmed by toxicological tests. Diaz tried to run past the officers, but they detained him to address his condition and determine what occurred in the apartment. Diaz continued to yell and resist the officers' repeated attempts to calm him down. The officers were concerned that there might be victims in the apartment, but could not check because both officers were needed to maintain control over Diaz. Because Diaz would not comply, the officers determined they needed to lay him on the grass to handcuff him. They did so by taking hold of Diaz's upper body in a controlled take-down. This conduct by the officers was completely reasonable under the circumstances.

Witnesses stated that the officers responded to Diaz with the necessary amount of force and acted appropriately. Despite Diaz's shouting and struggling, the officers repeatedly told Diaz to relax using calm voices, asked his name, and let him know that paramedics had been called. When Diaz stopped resisting, the officers tried communicating with him within 30 seconds.

When he was nonresponsive, they promptly checked for a pulse and respirations and began life-saving measures. The paramedics arrived approximately two minutes later and took over Diaz's medical care. Diaz was transported to the hospital, where lifesaving efforts were continued for approximately 20 minutes before Diaz was declared deceased. The coroner
determined that Diaz's death was the result of complications due to an acute polydrug intoxication and the combined effects of amphetamine and methamphetamine.

Thus, there is no evidence whatsoever to support a finding that any SAPD personnel, or any individual under the supervision of the SAPD failed to perform a legal duty. To the contrary, the SAPD officers treated Diaz with composure and respect, and handled his sudden medical emergency with efficiency and professionalism.
Based on all the evidence provided to and reviewed by the OCDA, and pursuant to applicable legal principles, it is our conclusion that there is no evidence to support a finding of criminal culpability on the part of any SAPD personnel or any individual under the supervision of the SAPD. The evidence shows that Diaz died as a result of complications of polydrug
intoxication and the combined effects of amphetamine and methamphetamine.

Accordingly, the OCDA is closing its inquiry into this incident.