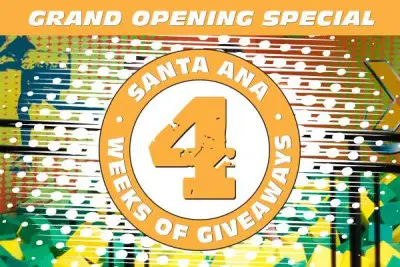 Rockin' Jump(R) Opens in Santa Ana With a Month of Great Giveaways
Four Weeks of Freebies Welcome Kids & Adults to "The Ultimate Trampoline Park"
SANTA ANA, CA — (Marketwired) — 09/03/15 — Rockin' Jump, headquartered in Pleasanton, CA, is celebrating the Grand Opening of its Santa Ana location by giving away 100 pairs of socks daily from Sept. 17th through Sept. 25th, 100 chair massages daily from Sept. 26th through Oct. 2nd, 100 Rockin' T-Shirts daily from Oct. 3rd through Oct. 9th, and 100 slices of pizza daily from Oct. 10th through Oct. 16th. Rockin' Jump's Grand Opening Kick-off Event will take place on Sept. 17, 2015 at 1411 S. Village Way in Santa Ana at 3:00 pm.
Rockin' Jump features activities for all ages, including a massive open jump arena, trampoline dodge ball courts, basketball slam/dunk zone, soft landing stunt bag arena, climbing wall, and a popular jousting challenge. Tailored programs include: Rockin' Tots, dedicated play time for moms and toddlers; Rockin Wednesdays, which feature free jump time; and Rockin' Fridays, exclusively for teens. Rockin' Jump also offers birthday, bar/bat mitzvah parties, special events planning, massage lounge chairs, free WiFi, high def TVs, climate control, and the Rockin' Café.
"Trampoline and our other activities help kids build strength, confidence and coordination while having fun," said Cory Moore, Sales & Marketing Director for Rockin' Jump. "Adults love the fact that bouncing is aerobic, burns tons of calories, and promotes fitness. All our parks are pristine. That's what sets us apart. Rockin' Jump is a place where the whole family can play their way into great shape in a healthy, clean, safe environment."
Promoting safety through its JumpSafe. Clean. Fun.™ program, Rockin' Jump trampoline parks train staff and guide guests to adhere to ASTM standards for safe operating procedures.
Rockin' Jump trampoline parks are created for families who seek healthy, active leisure destinations where everyone can play, exercise, and socialize with other active families. For more information, click here.
About Rockin' Jump
Rockin' Jump turns fun into fitness. Founded in 2010, Rockin' Jump is a family-owned company with 15 franchises. Featuring a range of innovative trampoline equipment and state-of-the-art, pristine facilities, Rockin' Jump has quickly become the most popular recreation and fitness destination in the markets it serves.
###