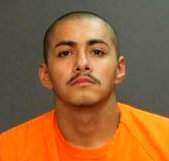 ORANGE COUNTY DISTRICT ATTORNEY PRESS RELEASE
Case # 13HF2731 & 13CF2980
Date: September 29, 2015
GANG MEMBER CONVICTED OF MURDERING ONE WOMAN AND ATTEMPTED MURDER OF FEMALE BYSTANDER
SANTA ANA, Calif. – A gang member was convicted today of the murder of one woman and attempted murder of a female bystander. Irvin Tellez, 27, Garden Grove, was found guilty by a jury of one felony count each of first degree murder, attempted murder, and street terrorism with sentencing enhancements for the personal discharge of a firearm causing death, personal discharge of a firearm causing great bodily injury, criminal street gang activity, and great bodily injury. Tellez faces a maximum sentence of 112 years and eight months to life in state prison at his sentencing, Nov. 20, 2015, at 9:00 a.m. in Department C-30, Central Justice Center, Santa Ana.
Co-defendant Jaime Prieto Rocha, 42, Santa Ana, pleaded guilty Sept. 4, 2015, to one felony count of voluntary manslaughter with a sentencing enhancement for criminal street gang activity. Rocha is scheduled to be sentenced on Oct. 30, 2015, at 8:30 a.m. in Department H-1, Harbor Justice Center, Newport Beach.
At the time of the crime, Rocha was friends with Tellez and 28-year-old Nancy Hammour.
After midnight on Sept. 2, 2013, Rocha drove with Tellez into a Santa Ana neighborhood, with Hammour in the backseat. The defendants spotted an unknown woman, 31-year-old Elizabeth G., who was standing outside on the curb waiting for a friend to pick her up. The defendants engaged in a conversation with Elizabeth G. and Tellez pulled out a firearm and shot Elizabeth G. in the face. The defendants then drove away and fled the scene. Tellez then turned his firearm on Hammour and shot her in the face. Hammour slumped onto the back floorboards still alive. Tellez then shot Hammour in the face a second time, murdering the victim.
The Santa Ana Police Department (SAPD) responded to sounds of gunshots reported. Elizabeth G. was immediately transported to a hospital. She survived the gunshot wound.
The defendants subsequently drove to Newport Beach to dispose of Nancy H.'s body. Rocha and Tellez dumped the body somewhere near the Newport Bay Bridge off Pacific Coast Highway in Newport Beach.
Early on Sept. 2, 2013, Rocha drove south toward Oceanside and called a company to request towing. Shortly thereafter, Oceanside Police Department officers arrested Rocha.
On the morning of Sept. 2, 2013, the Newport Beach Police Department (NBPD) found Nancy H.'s body underneath the Newport Bay Bridge. NBPD and SAPD investigated this case.
Senior Deputy District Attorney Jim Mendelson of the Homicide Unit is prosecuting this case.
###
TONY RACKAUCKAS, District Attorney
Susan Kang Schroeder, Chief of Staff
Office: 714-347-8408
Cell: 714-292-2718