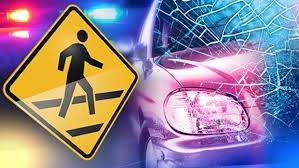 A 51-year-old Santa Ana woman, Karen Portillo, was killed on Sunday night at about 8:30 p.m. when she was struck by a Ford Flex at First Street, west of Yorba Avenue while she was crossing the street, according to Behind the Badge.
Portillo was walking on First Street when she entered Yorba Street to cross it, according to the O.C. Register.
The unidentified driver was driving through the intersection when she hit Portillo with her vehicle.
Portillo was taken to a local hospital after the accident.  She died at the hospital.  She was identified by the Orange County Coroner.
The driver that hit Portillo was a 56-year-old woman from Santa Ana. She stayed at the scene and cooperated with investigators.  The driver was not injured in the accident. Police said it does not appear alcohol, drugs or cell phone use played a role in the collision.
The Tustin Police Department Traffic Unit is investigating the crash and there have been no arrests or citations. Investigators are also looking into whether the pedestrian was in a designated crosswalk.
Anyone who may have witnessed the collision or has any additional information is asked to contact Tustin Police Officer Ralph Casiello at 714-573-3218.