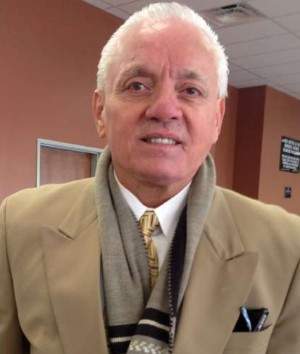 Nativo Lopez, Executive Director of Hermandad Mexicana, died today, at the age of 68, according to a press release issued by his organization.
Last week, Hermandad Mexicana, shared that López had been diagnosed with a gastrointestinal malignant tumor in March and sought chemotherapy treatment at UC Irvine Medical Center in Orange, according to the OC Weekly.
Hermandad Mexicana will be hosting a memorial service in remembrance of Lopez' life and legacy, in the coming days. In the meantime they are asking for donations to pay for his funeral expenses, which you can make online here.
Lopez, born in Los Angeles, grew up in Norwalk, California. He became an activist in 1968, inspired by Bert Corona and Cesar Chavez. Prior to college at UCLA and California State University, Dominguez Hills, Lopez who was born Larry Nativo Lopez, changed his name to Nativo Vigil Lopez.[1] He organized student walk-outs from high schools in order to demonstrate for education reform. He was involved in successful efforts to win a large-scale amnesty for undocumented immigrants in 1986, and became involved in a campaign to allow undocumented immigrants to obtain drivers' licenses in the 1990s, according to Wikipedia.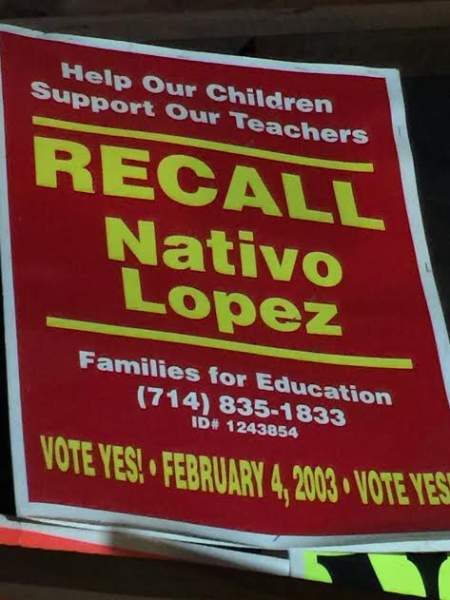 Lopez was elected to the SAUSD School Board back in 1997, where he formed an alliance with his fellow board members John Palacio and Sal Tinajero. But he was ultimately recalled from office in 2003 after multi-millionaire Ron Unz sided with local moms who wanted their kids to be taught in English, not in Spanish. Santa Ana Mayor Miguel Pulido supported the recall, which was stunningly successful. Lopez lost in every precinct and the recall got 71% of the vote.
Lopez then sued to challenge the use of English-only recall petitions as a violation of the Voting Rights Act, and won in the Ninth Circuit federal appeals court.
A major factor in the recall was an effort by Lopez and his allies to build a neighborhood elementary school in north Santa Ana, which at the time was populated mostly by white Republicans. They joined forces with Unz to knock Lopez out of office.
Ironically Lopez and Palacio were both Republicans back during the Nixon/Reagan era. But they left the GOP a long time ago and Lopez used his Facebook page to slam President Donald Trump quite regularly.
In 2001, Nativo's group, Hermandad Mexicana, put out ads on Spanish-language radio station KKHJ-AM 930 which called then-California governor Gray Davis a "pinche güerito"–a "f*cking little white man," according to the OC Weekly.
Lopez later told the Weekly "That particular version of our ad is not in line with the philosophy of Hermandad, and we do not approve of it. It distracts from the main message and is racially offensive to Anglo-Americans."
Lopez then tried to claim that it was the radio station that put in the word "pinche," an assertion quickly refuted by station management–and not only that, when the "cleaner" version came back, it still called Davis a "güerito," and Lopez stood by it, despite it still had the part he deemed "racially offensive to Anglo-Americans."
Lopez also inadvertently helped the notorious Curt Pringle to get elected Mayor of Anaheim, in 2002, when they both supported the efforts of Gigante, a Mexican supermarket chain, as they tried to get a liquor license for a new location in Anaheim, as reported by the OC Weekly.
Lopez got busted in 2009 by the Los Angeles District Attorney's office when he switched his voter registration to the Boyle Heights, Los Angeles office of Hermandad Mexicana, the group he led, and allegedly cast an illegal ballot in Los Angeles County in the 2008 presidential primary, rather than Orange County. He was charged with eight felony counts, including voter-registration fraud, perjury, filing a false instrument, and fraudulent voting.
The trial did not go well. Lopez was jailed twice after conflicts with judges. He then underwent several hearings and evaluations to determine his mental competency to stand trial, and he then suddenly fired his lawyer and chose to represent himself in mid-2009.
Lopez eventually pleaded guilty to one felony count of voter registration fraud and the seven other felony charges were dropped. Lopez was sentenced to one year of probation by Judge William C. Ryan, and ordered to perform 400 hours of community service.
That was a low point in Lopez' career but he later was instrumental in passing a law, AB 60, which resulted in one million undocumented immigrants being granted drivers licenses in California. He also led a statewide effort in 2018 to convince Latino residents of California to not cooperate with the police, according to the Mercury News.
Lopez is survived by his wife, Maria Rosa Lopez, and their four children: Taina, Xel'ha, Olmo and Aime.