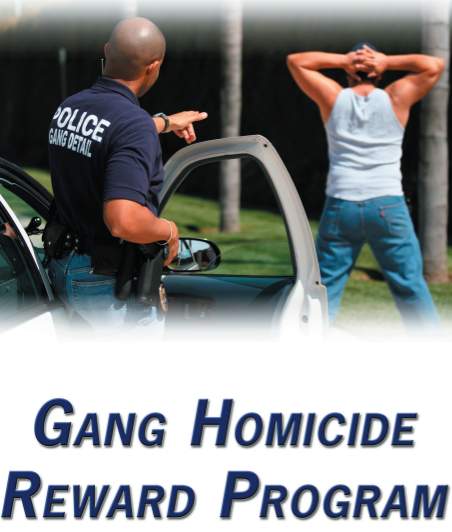 Apparently current SAPD Police Chief Carlos Rojas, who was hired by the Santa Ana City Council despite the fact that he had zero experience running a police department, wants us to believe that he has come up with a solution to the tsunami of gang violence in our city. So tomorrow he is going to face the media, at last, and talk about his new reward program.
But hold the presses – it turns out the SAPD already has a reward program in place for those who give tips about gang-related homicides. That program was put in place by former SAPD Police Chief Paul Walters, who now serves as the Chief of Staff to Orange County Supervisor Lisa Bartlett.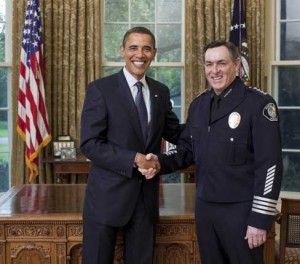 But don't take my word for this. Go look at the SAPD's own website, which touts the Walters reward program here.
Here is what Walters came up with when he launched the SAPD's current gang homicide reward program:
Do you have information on a suspect involved in a gang homicide or felony gang assault? The Santa Ana Police Department is offering rewards from $100 to $50,000 for information leading to the arrest of gang homicide or felony gang assault suspects. If you have information about gang homicide or felony gang assault suspects, please call (714) 245-8648. Further information is available – Click here for information in English or here for information in Spanish/Español.
I don't expect that offering more rewards is going to convince residents to speak up about the gang violence in our city. Too many of these residents are compromised because there are gang members in their family. Others simply fear for their lives – they figure if they snitch they will be attacked. They are probably right about that.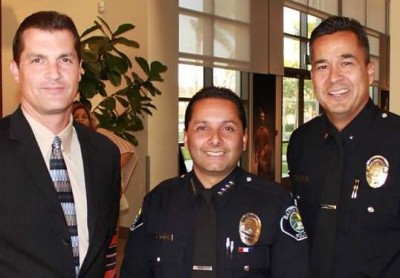 So what else can we do to curb gang violence in Santa Ana?
How about:
Hire more cops! The SAPD is woefully short on manpower. We need more cops! But the truth is that veteran cops don't want to come here because they are wary of our lame City Council and they don't respect Rojas. They know he was hired mostly because of his ethnicity, not because of his ability.
Fire Chief Rojas. He is the main problem right now – and he needs to go. We need to hire a capable, veteran police chief with EXPERIENCE fighting gangs. That simply is not Rojas. He admitted that last Fourth of July he turned tail and ran when he confronted a group of residents using illegal fireworks. He ran!  That is all you need to know about this guy.
Establish a Curfew for those under 18. If young people are out late with their parents that is one thing but when it comes to unaccompanied youth we need to enforce a Curfew and keep them home at night.
Don't allow kids at school to dress like cholos! I remember when my kids grew up at Santa Ana's fundamental schools. They had dress codes back then. The more liberal school boards have since done away with dress codes. But if kids are showing up at school looking like cholos, with their pants hanging down their asses, we need to stop that ASAP! And we need to go after truants. Keep kids in school and make them focus on their studies, not on gang banging.
Get warrants and search the gangbanger's home – often. We know who the gangbangers are. We know who the parolees are. Get search warrants and search their homes as often as it takes. We need to get illegal guns off the streets!
Crack down on meth use in our city! We all know that meth is fueling the current gang violence in our city. We need to shut down the meth trade in this city and get the drug addicts into rehab. This is by the way a regional problem. Gangs all over Orange County are making a lot of money on meth. We need to shut them down!
Finally – treat gangbangers like the terrorists they are. Gangbangers are not just criminals. They are terrorists! That is how we need to treat them. Use the RICO Act to go after them. And declare them to be the enemy combatants that they are. The disgusting part of all this is that most of these cholos are U.S. citizens! Treat them like the damn traitors they are.
When was the last time you heard Chief Rojas or our City Council Members get tough on the gangbangers? There is the problem! The gangs know we have weak leaders in our city. It is time to disabuse them of that notion. Fire Rojas and bring a ball-buster to Santa Ana who will have the huevos to take on the damn cholos once and for all! As for our City Council, I don't think the likes of David Benavides, Vince Sarmiento or Sal Tinajero can man up. But new Councilman Juan Villegas can! He has worked in law enforcement for over twenty years. He needs to take point on the effort to stop the gangs.
One thing Villegas will tell you is that stopping the gangs is all about parenting our kids. Gangbanging is nothing new in our city. Sadly there are families in town who have been mired in gang violence for generations. They are proving time and again that relying on welfare to raise kids is not a good substitute for actual parents who give a damn. We need to make sure kids in school know what causes pregnancy and they have the resources to stop unwanted pregnancies. Unfortunately the Catholic Church is against birth control – so they are part of the problem. The City should make sure that poor families in town can get the birth control they need. Or else this problem will keep repeating itself for many years to come.
Don't expect to hear anything useful from Rojas tomorrow. Instead be part of the solution! Email the City Council today and ask them to fire Rojas so we can bring in an actual leader and crack down on this city's out of control gang violence!