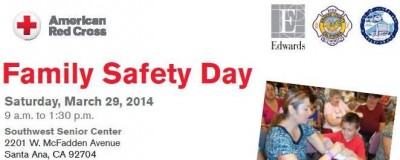 Santa Ana Community Alert: Don't Miss Upcoming Family Safety Day Event
SANTA ANA, CA (March 25, 2014)
Family Safety Day set for Saturday, March 29, 2014 from 9 a.m. to 1:30 p.m. at the Southwest Senior Center, located at 2201 W. McFadden Avenue, in Santa Ana.
EVENT IS FREE TO YOU AND YOUR FAMILY!
Space is limited. The first 250 people to check in at 9 a.m. are eligible for admission to the presentations. Those that attend all presentations are eligible for the FREE disaster kit (one per family), lunch and to enter a drawing to win a child's bike.
ATTENDEES WILL LEARN HOW TO:
• Be prepared for disasters with tips from the Family Earthquake & Disaster Preparedness presentation
• Provide First Aid & compression-only CPR (non-certified)
• Help children be prepared for disasters through the Preparedness Puppet show
Presentations will be given in Spanish, Vietnamese and English.
####