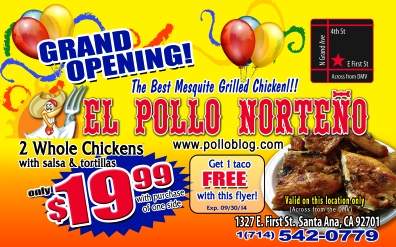 El Pollo Norteño has opened a new location in Santa Ana, located at 1327 E. First St., in Santa Ana, near Grand Ave., across from the Santa Ana DMV. This location replaces the one that was lost via eminent domain when the City of Santa Ana widened Grand Ave.
Right now you can enjoy a Grand Opening special of two whole marinated and grilled chickens, with homemade salsa and warm tortillas for only $19.95 or use the coupon above to get a free taco. This offer is only valid at this new location.
While El Pollo Norteño is known for their delicious grilled chicken they also offer Family Packs that can include Carne Asada and Carnitas as well as their Mexican rice and either refried or whole beans. And you can buy all the usual Mexican favorites at their restaurants, including tacos, burritos, and tortas. Click here to check out their menu.
Anabella and Salvador Corona opened the first El Pollo Norteño restaurant back in 1981. It was the culmination of their longtime desire to open a restaurant abroad. Their son Alfonso continues to manage the El Pollo Norteño restaurants which include locations in Anaheim, Garden Grove and Santa Ana.
They also cater events and company functions. Call them today at 1-866-MI-POLLO!