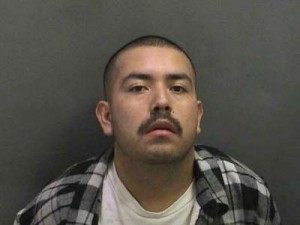 Orange County District Attorney Press Release
For Immediate Release, Case # 11CF3062: March 20, 2013
DRUNKEN DRIVER FACES TRIAL FOR CRASHING INTO MOTHER CROSSING STREET WITH TWO BABIES AND KILLING 2-YEAR-OLD BOY
SANTA ANA – A drunken driver faces trial tomorrow for killing a 2-year-old boy by crashing into the toddler and his mother and baby sister as they crossed the street. Angel Alberto Cruz Perez, 24, Santa Ana, is charged with one felony count each of vehicular manslaughter with gross negligence while intoxicated, driving under the influence causing bodily injury, hit and run with permanent injury or death, and one misdemeanor count of driving a motor vehicle without a license, with sentencing enhancement allegations for causing great bodily injury to a child under 5 years old, fleeing the scene, and an additional injured person. If convicted, he faces a maximum sentence of 16 years in state prison. Opening statements are expected to begin tomorrow, Thursday, March 21, 2013, at 9:00 a.m. in Department C-30, Central Justice Center, Santa Ana.
At approximately 3:00 p.m. on Nov. 9, 2011, Perez is accused of purchasing and consuming four pitchers of beer with a friend at Mariscos Ensenada Restaurant in Santa Ana. Each pitcher contains the equivalent amount of six 12-ounce bottles of beer.
At approximately 6:20 p.m., Perez is accused of leaving the restaurant with his friend and driving while intoxicated in his Toyota sports utility vehicle (SUV) with his friend in the passenger seat. He is accused of not possessing a valid California driver's license. As Perez drove northbound on Bewley Street and approached the 5th Street intersection, he is accused of failing to yield to crossing pedestrian Yesenia Romero, who was carrying her 1-year-old daughter and holding her 2-year-old son Darwin Almeida's hand.
Perez is accused of running a stop sign and hitting Almeida. The force of the impact caused Romero to lose grip of her son's hand, and Almeida was pulled under the vehicle. The defendant is accused of hitting Romero with his vehicle as she carried her daughter in her arms, knocking her onto the front hood of the SUV and throwing her back on the ground. After hitting the three victims, Perez is accused of fleeing the scene back to his home without offering help or aid.
The children's father, who worked across the street from the intersection, heard the commotion and ran outside to find his family had been hurt in the crash. Witnesses contacted police with Perez's license plate number and a description of the SUV. The Santa Ana Police Department (SAPD) arrested the defendant at home.
Almeida was pronounced dead en route to the University of California, Irvine Medical Center. Romero suffered abrasions to her knees. Her 1-year-old daughter was not injured.
Deputy District Attorney Anna McIntire of the Homicide Unit is prosecuting this case.
###
Tony Rackauckas, District Attorney
401 Civic Center Drive West
Santa Ana, CA 92701
Contacts:
Susan Kang Schroeder
Chief of Staff
Office: 714-347-8408
Cell: 714-292-2718
Farrah Emami
Spokesperson
Office: 714-347-8405
Cell: 714-323-4486