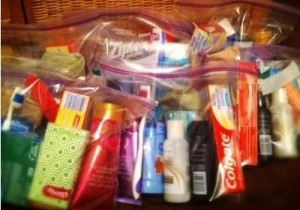 Santa Ana's Chapter One: the Modern Local restaurant is serving as a collection site today, Dec. 16, at 11 am, for items to donate to the local homeless.  Chapter One is located at 227 N Broadway, in Downtown Santa Ana.  Click here to like them on Facebook.  The event was put together by Elsy Mejia and Maria Mejia.
In the struggle to find food and a safe place to sleep, homeless people find it difficult to acquire basic items such as soap, shampoo, deodorant, and toothbrushes–things we probably take for granted every day.
Without these items, simple hygienic activities such as brushing their teeth or washing their hands are not only challenging but often out of the realm of possibility.
By giving these basic supplies to the homeless, you can help them avoid physical and dental health problems. Perhaps even more importantly, you can help them retain their dignity during what is undeniably already a very difficult time in their lives.
With that being said, we would love for you (and your friends and family) to be a part of an effort that my sister and I can only hope will become an annual event. "Passing Out Smiles" is an opportunity for all of us to help the less fortunate–and give them a reason to smile.
We recognize that this holiday season, there are plenty of opportunities to volunteer and give back to the community–however, the area of personal hygiene of the homeless population is one of great need—and one that we see as easy way for us all to collectively make a difference. We hope you will join us!!
Our goal is to collect 100 Personal Hygiene Kits for the homeless. The items we are looking to gather are the following:
•soap
•shampoo/conditioner (small sizes)
•toothbrush
•toothpaste (reg. size)
•washcloth or hand towel
•deodorant
•Lotion (small size)
•comb
•tissues
Remember these items should all fit in a large ziplock bag because we want to make it easy for the individual to carry. Also, these items are not meant to be expensive. You can find them at Walmart, Target or even the Dollar Tree – All Items are welcomed.
We would like for everyone who is participating in this event to come together for Brunch on Sun. Dec. 16, 2012 at 11AM. We will be meeting at Chapter One in Santa Ana: bring your collected hygiene items and have a mimosa! Please try to make it to this event as we will be celebrating the act of giving and while there, we will collect the items you are donating. Please RSVP to the event so that we have a better idea on how many to make the reservation for. If you are unable to meet for brunch on 12/16 but would still like to donate, GREAT! Just let us know and we will coordinate a time to meet with you to collect your items!
If you have any questions, contact Elsy at 714-697-4338 or Maria 714-854-4765.
We may not understand the reasons for homelessness but we do know that everyone smiles in the same language!
Help us spread the word and feel free to send this invite to your family and friends!
Thank you for taking part in this and giving someone a little hope for a better tomorrow ♥