I was at an SAUSD school board forum last week and was shocked when some of the boorish radicals in the audience booed when they heard that I got a contribution from the Santa Ana Police Officers Association. Most folks in Santa Ana don't hate the police. But a small, very vocal minority does. And they are backing a slate of candidates that we need to steer clear of.
The chief anti-police rabble rouser appears to be failed Socialist Mayoral candidate Benjamin Vasquez. His favored candidates this year include:
Reyna and Tinajero already spent many years on our City Council making a mess of our city. In fact Tinajero's decision to cancel the ICE contract at our city jail left Santa Ana on the brink of bankruptcy – as we now lack the money to pay the Santa Ana jail's bonds. This is why Tinajero has resorted to pimping for Measure X, which will raise our sales taxes in Santa Ana to the highest levels in Orange County.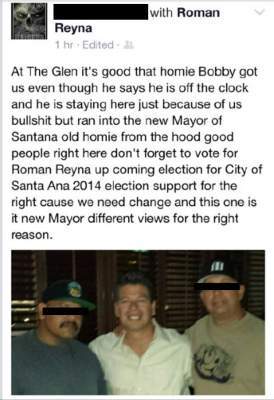 Reyna served previously in Ward 5 but he was booted by the voters when a member of local law enforcement, Juan Villegas, soundly thrashed him a couple years ago. Reyna lost that election in great part because he refused to explain how he came to be photographed with a couple of alleged members of the Mexican Mafia.
Palacio has been on the SAUSD School Board for 20 years. He is very proud of the SAUSD's current high graduation rate and doesn't care that 60% of our students are not proficient in math and over 40% are not proficient in English (reading and writing). How these kids, with their worthless diplomas, will compete in today's increasingly digital world is a very good question.
Most of the current crop of local candidates support our police and want to stop crime in our community. Ward 2 City Council candidate Sandra Pocha Pena Sarmiento has published a safety plan and she says she doesn't think that demonizing the police will make our city safer.
Ward 2 City Council candidate David Penaloza lost his dad to a drunk driver many years ago. He is very anti-crime and is endorsed by the Santa Ana Police Officers Association.
Ward 6 City Council candidate Myrna Velasquez is also backed by the Santa Ana Police Officers Association. So is Phil Bacerra over in Ward 4. (Funny how the ex-girlfriend that is currently bashing him online didn't attack him when Bacerra was originally appointed to the Santa Ana Planning Commission – and no other women have stepped forward with any allegations about Bacerra).
Ward 2 City Council candidate Mike Gonzales has owned and operated a security guard firm in Santa Ana for over 25 years – and he has personally tangled with both gang bangers and drug dealers as well as transients.
Ward 2 City Council candidate Irma Macias has worked with our police and with code enforcement. She too supports law and order.
Ward 6 candidate Cecilia Iglesias has plenty of crime-fighting experience gleaned from her years on the SAUSD School Board where she is often the only no vote against an often-lunatic board majority.
Mayor Miguel Pulido, who is running for what will be his last term, is also supported by the Santa Ana Police Officers Association.
If you want to vote for pro-public safety SAUSD school board candidates please consider voting for me, Art Pedroza, and my colleague Angie Cano.
Santa Ana residents are sick and tired of the high crime and nonsense that goes on in our streets, neighborhoods and parks. Don't vote for politicians that will continue to fail to make our city safer!