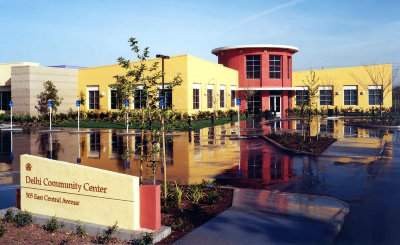 Delhi Neighborhood Community Building Initiative builds community connections with Officers
By: Alicia Rodriguez, Delhi Center
(Santa Ana, CA)- Over 70 Santa Ana residents gathered at the Delhi Center on May 7, 2015 to engage in conversation with Santa Ana Police Officers about crime and safety in the Delhi Neighborhood. Amidst the civil unrest in Baltimore and nationwide protests, the SAPD police officers and local residents took active steps towards building and strengthening relationships.
The event went over background on the Delhi Neighborhood as it is one of the most densely populated residential developments in Santa Ana. The Delhi Center is located in the center of the Delhi Neighborhood, an area with 10,643 in total population and comprised 95.1% Hispanic/Latino.
The evening was facilitated by Rigoberto Rodriguez Ph.D., the President of Delhi Center Board. There residents each sat with at least one Officer at each table. As everyone enjoyed dinner, residents and law enforcement were able to converse about questions and concerns in their community. It was an opportunity for residents to meet and build relationships with Officers that patrol their communities. The residents used classroom response systems (clickers) to respond to questions regarding their safety and familiarity with police. This was the first event in a series of community forums the Delhi Neighborhood Community Building Initiative (CBI), funded by St. Joseph Health Community Partnership Fund are planning over the course of the next three years.
The Community Building Initiative is a model that was developed by St. Joseph Community Partnership Fund to work with residents in assessing community needs and working to resolve particular issues within the community. Residents have the goal of improving the perception of community safety in the Delhi Neighborhood. A core group of 10 residents living in the Delhi have actively worked for over a year in developing goals, strategies, measures and activities to implement in the community. They have the collaborative support of from the Margarita Macedonio, District Manager for the City of Santa Ana and Ruben Ibarra, District Commander for the Santa Ana Police Department.
The following Delhi Neighborhood CBI meeting is on July 1, 2015, from 6:00-7:30 pm at the Delhi Center.
###
About the Delhi Center:
The Delhi Center serves as a gathering place for local residents and organizations from throughout Orange County. It serves as an investment vehicle for those wishing to impact the lives of our most challenged neighbors. Programs and activities are organized into four areas: Health, Financial Stability, Education, and Community Engagement. Annually, the center welcomes over 42,000 individuals through its doors for various programs, services, trainings and events. Its history, perseverance, and impact are a testament to the work ethic of those it serves and the hope that defines its legacy.
For more information please contact Alicia Rodriguez, Delhi Center (714)481-9625 or e-mail Alicia@delhicenter.org.