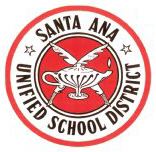 FOR IMMEDIATE RELEASE
Contact: Deidra Powell (714) 558-5555
Press Release: SAUSD SEEKS COMMUNITY ENRICHMENT PROVIDERS FOR AFTER SCHOOL PROGRAMS
Founded in 1888, The Santa Ana Unified School District (SAUSD) is the 6th largest school district in California, and the largest in Orange County, California. Santa Ana Unified educates approximately 54,000 students and is composed of sixty-one (61) schools: thirty-six (36) elementary schools, nine (9) intermediate schools, six (6) high schools, three (3) alternative high schools, five (5) charter schools, and one (1) special school. Approximately 60% of SAUSD students are English learners. Spanish, Vietnamese, and Khmer are the most common languages spoken at home.
The California Department of Education (CDE) After School Education and Safety (ASES) Program and the 21st Century Learning Centers Grant fund the establishment of local before and after school education and enrichment programs in Santa Ana. These programs were created through partnerships between schools and local community providers to provide literacy, academic enrichment, and safe constructive alternatives for students in kindergarten through eighth grades. The goal is to support local efforts to improve assistance to students and broaden the base of support for education in a safe, constructive environment.
On Wednesday, June 3, 2015 SAUSD released a Request for Proposal (RFP) seeking and intending to award contracts to qualified after-school enrichment partners. The purpose of this RFP is to obtain information that will enable the District to select qualified enrichment partners to provide educational enrichment and safe constructive alternatives for students in grades K-8. The request for specific types of enrichment offerings are indicative of responses obtained during Parent Focus Groups, K-8 Site Administrator feedback sessions, and an interest survey conducted with participating intermediate students. Educational enrichment activities must include unique services that Santa Ana Unified School District cannot provide in one of the five areas: 1) Arts and Culture (i.e. Music, Instrumental, Fine Arts), 2) Science Technology Engineering and Math (STEM), 3) 21st Century Skills (i.e. Technology Skills, Computer Science), 4) College and Career Readiness (i.e. Study Skills, Organizational Skills) and 5) Specialized Movement (i.e. Karate, Dance). Enrichment activities must be designed to enhance the implementation of the current State Standards.
For information on the RFP process and requirements, please click here.
###