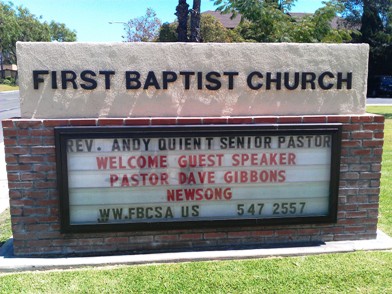 The artists at Downtown Santa Ana's Santora Building have no idea what they missed out on when they rejected the proposed purchase of that building by the Newsong Church.  I found out today that they missed out on more than they could have imagined.
A few weeks ago I approached Pastor Andy Quient, my minister at Santa Ana's First Baptist Church – a historic congregation that first met in 1872.  I knew that Newsong's minister, Dave Gibbons, had expressed a desire to minister in Santa Ana.  I had a feeling that he still felt the same way.  Quient's challenge at First Baptist has been filling a church that has lost many of its parishioners over time.
First Baptist can seat over 700 people but typically we are lucky to get 70 folks in our pews.  It is depressing.  Which is why I asked Quient to contact Gibbons, to see if he might have an interest in working with us, given Newsong's amazing success in Irvine, where they have a "mega-church."
As luck would have it, Quient had quietly been working on convincing the board of directors at our church of the need for a merger, in order to keep our church going.  Most of our directors have been going to our church since they were kids.  They are retired now, for the most part.  Their number includes teachers, a retired Judge and other professionals.  They love our church but recognize the need for change, given our dwindling numbers.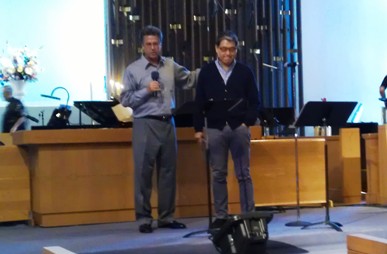 I suggest to Quient that he contact Gibbons via Facebook, and he did.  Gibbons answered – from Thailand, where he was working with another church.  When he returned he met with Quient and they hit it off.  He invited Quient to attend one of his meetings, to get to know Newsong's leadership team.  He did and it was quite an experience.
We get by the best that we can at First Baptist, but Newsong is a different world – not unlike visiting the Land of Oz.  It blew Quient away.
So today my wife and I went to church, with our 9-year old, and surprise – Gibbons was there to give a guest sermon.  He and Quient cautioned us that their two churches are in the dating phase and that if something does happen, such as a merger, it will be up to God and our respective leaders.  But many of us at the 11 am service were astounded by Gibbon's message.
If you haven't met Gibbons, then you may not know that while he appears to be Korean, he is in fact the progeny of an American soldier who met and fell in love with a lady in Korea, while he was serving in the U.S. military there.  Gibbons' mom suffered greatly in Korea while married to another man who beat her.  Gibbons' father saved her from that life and they fell in love.  They eventually settled in Phoenix, Arizona, and started a family.  It sounded like Gibbons had at least one brother and one sister.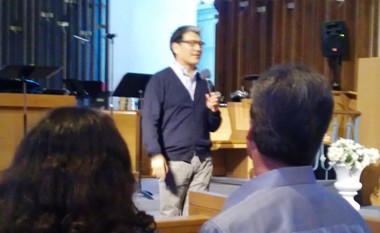 Gibbons shared a few funny stories about his mom – how she would embarras him and his siblings at times.  For example, she would walk up to a store clerk and try to negotiate the price of the clothing she was buying for her kids.  And she would take them to buffets and after they had stuffed themselves she would pack pieces of friend chicken in napkins and stuff them in her purse.
Those were cute stories but then came the kicker.  There came a day when Gibbons' father cheated on his mother.  It sounded like he left his family.  Hard times ensued.  Gibbons found Christ when he was 16, but not long later his mom was killed by a drunk driver. 
Gibbons could have become bitter but he went to seminary and he eventually started one of the most dynamic Christian churches in America.  His church today has a global presence.  But what it all boils down to is Gibbons' understanding that deep down inside we all want to be recognized for who we are, as individuals.  He related the story of how Jesus walked up to a Samaritan woman and asked her for a drink of water, from a well, to introduce the concept that God knows us just as Jesus knew that woman – and that is a message that has resonated with Gibbons' parishioners.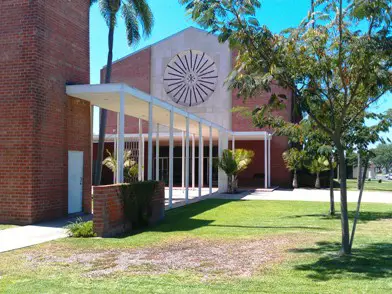 Gibbons' dream for Santa Ana is to empower young people and to bring them to a church that is not boring.  His enthusiasm is magnetic and his message is inspiring. 
I don't know if Newsong will merge with First Baptist of Santa Ana.  But I hope it does.  We have a beautiful old church, on four acres, that deserves to be packed on Sundays.  For Newsong this is a second chance to minister in Santa Ana – just a few miles north of Downtown Santa Ana.  For First Baptist this deal could save our church. 
None of this would have come to pass had the Santora deal not fallen through.  But it is too bad that Santa Ana's artist community missed out on a chance to get to know Gibbons…
Click here to learn more about Gibbons.  Click here to check out Quient's online radio show, which is broadcast on AM 830 on Sunday nights.