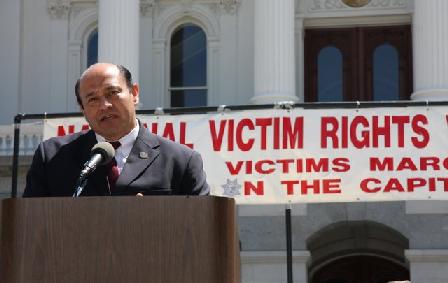 Photo from file: State Senator Lou Correa addressing National Victims Rights during march to the State Capitol last year
For Immediate Release: March 23, 2010
Contact: Lina Hamilton (916) 651-4034
Correa's Bill to Strengthen Sentences for Sex Offenders
SB 1037 will give courts discretionary sentencing ability, particularly in cases of high risk sex offenders and sexually violent predators.
SACRAMENTO, CA- State Senator Lou Correa (Orange County) has introduced Senate Bill 1037 (SB 1037) to allow courts the ability to order full term sentences, particularly in certain aggravated cases involving violent sexual offenders.
"A crime against a child is despicable, especially sex violent crimes in which young victims' lives are lost or change beyond repair, are morally reprehensible," said Senator Lou Correa. "We need to make sure that we do everything we can to keep violent child predators off the streets and enable our justice and law enforcement systems with laws that will serve justice to victims and their families."
In 2005, Jessica Marie Lunsford, a nine year old, was kidnapped, raped and then buried alive in Homosassa, Florida, by her neighbor across the street, John Couey, a 47-year-old previously convicted sex offender and pedophile. Two months later, the Florida House of Representatives passed unanimously (118-0) "The Jessica Lunsford Act".
California Proposition 83, "The Sexual Predator Punishment and Control Act: Jessica's Law", was approved by voters on November of 2006 and enacted in 2007. This law prohibits convicted sex offenders from living within 2,000 feet of schools and parks. Jessica's Law provided California's law enforcement authorities with tools to manage elusive sex offenders, by mandating Global Positioning System (GPS) for life.
Although "Jessica's Law" was enacted in California "to strengthen and improve the laws that punish and control sexual offenders," a drafting error actually limited application of the statute to only offenses involving the "same victim on the same occasion". Prior to "Jessica's Law" enactment the discretionary full term consecutive sentencing provision for forcible sex crimes statute applied more broadly.
As of last year, there were 83,000 registered sex offenders living in California, the highest population in the nation. According to the California Department of Correction and Rehabilitation (CDCR), this population is growing and protecting the public from sexual offenders is becoming "increasingly complex." Although California leads the nation in terms of sex offenders on GPS (over 7,000), personnel and funding shortages due to the current budget crisis constrains sex offenders' management implementation. According to a report released last month by the California Sex Offender Management Board (SOMB), 70 to 75 percent of the state's parolees are unsupervised at any given time.
According to the U.S. National Center for Missing and Exploited Children, there are 704,777 registered sex offenders in the Unites States. A "nation within a nation," as ABC Nightline's reporter Terry Moran described it in a recent news report titled "Chelsea King's Disappearance: Who is Watching California's Sex Offenders?"
In early March 2010, Chelsea King, a 17-year-old girl from San Diego County, was found dead in a shallow grave several days after she went missing. Chelsea was a "straight-A" senior at Poway High School. Based on physical evidence, San Diego County authorities charged convicted registered sex offender John Albert Gardner III with first degree murder and forcible rape in King's case. In 2000, Gardner, a 30-year-old Lake Elsinore resident, pleaded guilty to molesting and committed a forcible and lewd act to his 13-year-old girl neighbor. She managed to escape and testified against Gardner. He was eligible to serve a maximum of 11 years in prison; however, he served only five years out of a six-year term under a plea agreement. When he was released from prison, Gardner was registered on the Magan's Law website, but operated "under the radar" when he often stayed at his mother's home near an elementary school. According to authorities, Gardner is also linked to two other cases in the San Diego area: an assault in late 2009 on Candice Moncayo, a 22-year-old woman who was jogging in the community park where Chelsea King's car was found when she disappeared, and in the disappearance of Amber DuBois, a 14-year-old girl who went missing on her way to school in February 2009.
The proposed legislative fix in SB 1037 (Correa), in collaboration with Orange County District Attorney, Tony Rackauckas, would return the law to its pre-"Jessica's Law" state, where the discretionary sentencing provision applied to all forcible sex crimes, without the requirement that the crimes involve the same victim on the same occasion. This will give the courts the discretionary sentencing tool needed, particularly in cases of high risk sex offenders and sexually violent predators.
In closing, Senator Correa added, "As a father, I can only imagine that the loss of a child can be the most painful experience a parent can bear in life, but a loss of a child to a sex violent predator, is a place no parent should never had to be if we have the laws in place that would keep our children safe and out of the hands these criminals. Let's never forget that the loss of innocent children like Jessica Lunsford, Amber Hagerman, Megan Kanka, Chelsea King, Amber DuBois, Adam Walsh and thousands more are lessons to or society that sexual violent predators are real and they are in the lookout of innocent preys if we let them. I urge my colleagues in the Legislature, Governor Schwarzenegger and parents in California and across the nation to support legislation that will protect the precious lives of our children"
The Senate Committee on Public Safety will hear SB 1037 within the next few weeks.
Senator Lou Correa represents the 34th District, which includes the cities of Anaheim, Buena Park, Fullerton, Garden Grove, Santa Ana, Stanton and Westminster. ####
Lina Hamilton
Legislative Aide
Office of Senator Lou Correa, 34th District
(916) 651-4034
lina.hamilton@sen.ca.gov