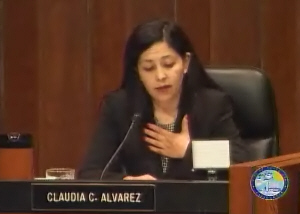 FOR IMMEDIATE RELEASE: October 25, 2011
Contact: Jose Gonzalez, City Manager's Office, 714-647-5200 – Office, 714-822-4415 – Cell
City of Santa Ana Hosts "Agent of Change" Community Forum on Cultural Diversity
SANTA ANA, Calif. (October 25, 2011) – Mayor Pro Tem Claudia Alvarez, in conjunction with the City of Santa Ana, is hosting a Community Forum on Cultural Diversity and Conflict Resolution, on Thursday, October 27, 2011. The Community Forum will be held at the Santa Ana Police Community Room at 60 Civic Center Drive, Santa Ana, from 10:00 a.m. to 2:00 p.m.
A cross-section of community leaders has committed to participate in the Community Forum. This forum will focus on the Jewish–Latino experience as it relates to their shared history and common desire to promote social justice and economic prosperity. The Community Forum will consist of four components and will be moderated by Michele Ruiz of the Latino-Jewish Coalition.
The four components are:
(1) History of the Latino-Jewish collaboration led by the Latino-Jewish Coalition including the American Jewish Committee. Rabbi Marc Dworkin and Norma Garcia-Guillen will provide a historical perspective of Jewish-Latino communities working together to overcome discrimination and to promote social justice and economic prosperity.
(2) Kevin O'Grady from the Anti-Defamation League will lead the second component which will address the causes of harmful speech, its impact on our communities and the need for improved dialog.
(3) The third component led by Rusty Kennedy of the Orange County Human Relations Commission will be an exercise to develop trust among the forum participants through sharing of commonalities based upon their respective families' immigrant experience.
(4) The final component will consist of practical solutions for conflict resolution presented by Marc Meyer of the National Conflict Resolution Center.
The Community Forum is an invitation only event to facilitate candid dialog among the participants. In an effort to promote this noteworthy event, the Forum will be broadcast live on the internet. Members of the public not attending and the media who wish to see the Forum may view it by clicking here.
Further media inquiries should be directed to the City of Santa Ana Public Information Officer Jose Gonzalez.
# # #