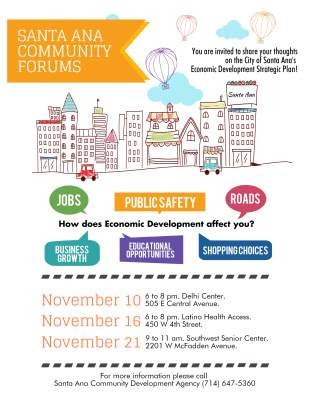 City of Santa Ana
Community Alert: City of Santa Ana to Host Economic Development Strategic Plan Forums
The City of Santa Ana will be hosting three community forums in November to garner feedback on a new Economic Development Strategic Plan. Local residents and businesses are invited to share their thoughts on the City's plan for economic development and to learn about how economic development affects jobs, public safety, roads, business growth, educational opportunities and shopping choices.
The firm helping to create the Economic Development Plan, RSG, will be presenting data gathered on different metrics such as employment, education, real estate lease/sales rates, property turnover and business performance during the forums. RSG will field questions, ask questions and invite feedback. Additionally, there will be interactive stations at the events for input, and a survey that can be taken onsite or online.
The development and implementation of an Economic Development Plan is part of the goals set forth by the City's Strategic Plan and will help ensure that Santa Ana is a city with a vibrant business climate that is accessible, user friendly and welcoming to all residents and visitors.
The forums will be held on November 10, from 6 to 8 p.m., at Delhi Center, 505 E. Central Avenue; November 16, from 6 to 8 p.m., at Latino Health Access, 450 W. 4th Street; and November 21, from 9 to 11 a.m., at Southwest Senior Center, 2201 W. McFadden Avenue.
For more information, please call the Santa Ana Community Development Agency at (714) 647-5360 or RSG at (714) 541-4585.
###