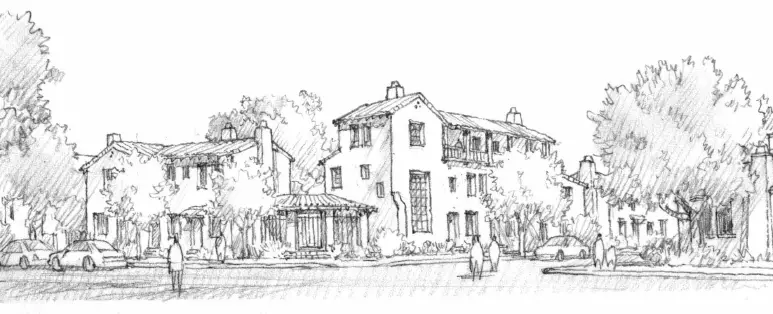 Line drawing of the Courtyard Housing the City of Santa Ana had proposed for the Lacy Neighborhood
FOR IMMEDIATE RELEASE
Contacts: Friends of the Historic Lacy Neighborhood
Jeff Dickman: 714.240.0883
Attorney Susan Brandt-Hawley, 707.938.3900
Settlement Announced in Lawsuit Filed Against the City of Santa Ana to Stop Illegal Demolition of Vintage Homes
Santa Ana (April 19, 2010) The Friends of the Historic Lacy Neighborhood (Friends) has settled an action in the Orange County Superior Court against the City of Santa Ana to enforce the California Environmental Quality Act(CEQA). The Petition for Writ of Mandamus, filed November 19, 2009, asked the Court to void the City's unlawful approval of the demolition of vintage homes in the Lacy Neighborhood because the City had not complied with state environmental laws designed to protect historic and cultural resources. The case was settled upon the City's agreement to:
Rescind its imminent salvage and demolition of 11 vintage and historic homes in the historic Lacy Neighborhood of Santa Ana.
Reconsider the future of the 11 vintage and historic homes only after certification of an adequate Environmental Impact Report (EIR).
The Draft EIR for the Transit Zoning Code, which includes consideration of demolitions of Lacy Neighborhood and surrounding area, was thus revised and recirculated to consider a new alternative for rehabilitation of the 11 City-owned vintage structures.
Reimburse the Friends for legal fees and costs.
Santa Ana Historical Preservation Society president Alison Young was pleased with the concessions made by the City of Santa Ana. "This settlement is a great demonstration of how a community group can make a big difference to local preservation."' The Friends, a grassroots organization of local preservationists, will continue to work with the City of Santa Ana to insure it takes feasible steps to protect the important architectural and cultural legacy of the Lacy Neighborhood.
###