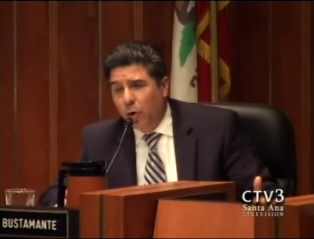 According to a new anonymous letter that was sent to the County of Orange and to the Orange County Register, Bustamante and one of the four women named in the new letter "met more than a dozen times a month for more than a year either in his office or her palatial quarters he built for her." The letter writer also promises "steamy, erotic pictures" of the sexual encounters will be soon posted on social media.
The new letter also "accuses another high-ranking male county employee of having sex in his office."
I am also hearing that the City of Santa Ana may have to start their own investigation of Bustamante – which could turn up even more cases of alleged harassment.
The Santa Ana City Council is meeting tonight, at the SAPD Community Room.  This meeting won't be televised live but I am told that it will be televised after the meeting is over.  You can watch it then online here.
A friend of mine reported that Bustamante did show up to the meeting tonight – as did his friends in the Usual Suspects.  They are there to screech about the Chivas soccer stadium deal, which I still don't think will happen, even though I hope it will.