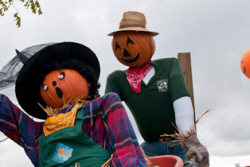 FOR IMMEDIATE RELEASE: SEPTEMBER 20, 2011
CONTACT: JENN STARNES, 949-724-6574
Help Scare Away Hunger by Building a Scarecrow in the Park
Organizations invited to compete in exhibition at Great Park Pumpkin Harvest
IRVINE – The Great Park is inviting local businesses and community organizations to create a scarecrow to help scare away hunger during the second annual Scarecrows in the Park event. The competition, presented by the Orange County Great Park and Second Harvest Food Bank, gives local businesses and community organizations the opportunity build and display unique scarecrow creations while providing support for a worthy cause. Teams can create their own imaginative scarecrow that showcases their organization's spirit and mission, while at the same time supporting efforts to help alleviate hunger in Orange County.
A $500 tax-deductible entry fee paid by participants will help to underwrite more than 700 meals for hungry families and support hands-on learning at the Park's Farm & Food Lab. Prizes will be given for the top three scarecrows. Registrations are due September 30, 2011. Scarecrows in the Park guidelines, registration information and entry forms can be found online at www.ocgp.org.
"The Great Park is committed to working with community organizations to help advance important causes," said Beth Krom, Chair, Orange County Great Park Corporation. "This creative program enhances our Pumpkin Harvest event, supports Second Harvest Food Bank, and reinforces the Park's agricultural education programs and Farm & Food Lab."
Entries will be exhibited at the Great Park's annual Pumpkin Harvest event on Saturday, October 22, 2011. More than 8,000 people are expected at this free community event. Great Park guests will vote for their favorite scarecrows and the winning entries will be featured on the Great Park website, widely viewed throughout Orange County.
"Every dollar donated funds three meals for those in need," said Joe Schoeningh, Director, Second Harvest Food Bank, Orange County. "An estimated 615,000 people in Orange County are at risk of hunger each month. We thank the Orange County Great Park for their shared mission to help the hungry."
Click here to download Scarecrow in the Park registration forms.
About Second Harvest Food Bank
Since 1983, Second Harvest Food Bank of Orange County has provided more than 265 million pounds of safe and nutritious surplus food to now over 450 charitable non-profit organizations throughout Orange County. The Second Harvest Food Bank of Orange County is a certified Affiliate Member of Feeding America. For more information about Second Harvest Food Bank of Orange County or to learn how to help, visit http://feedoc.org.
About the Great Park
The Orange County Great Park, with its 1,347-acre master plan, is the focal point of the redevelopment of the publicly-owned portion of the 4,700-acre former Marine Corps Air Station, El Toro. The Great Park features an iconic tethered helium balloon that rises 400 feet in the air, providing an aerial view of Park development. Other features include the Carousel, Farm and Food Lab, Kids Rock Playground, Palm Court Arts Complex, North Lawn recreation area, historic Hangar 244. The South Lawn lighted soccer fields and Community Garden will be added in 2012. For more information, please go to www.ocgp.org.