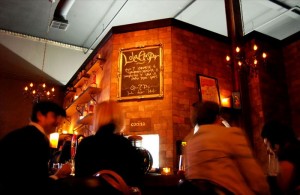 After our last Planning Commission meeting myself and a couple of my fellow commissioners wanted to grab a bite to eat.  Selecting a restaurant is always a task considering our different tastes and diets.  Commissioner Jim Gartner is a voracious carnivore who loves a nice steak, while I myself am a vegetarian…stop laughing…no really I am, so Commissioner Eric Alderete suggested we try Lola Gaspar in the Artist Village, he said they have something for all of us.
Eric was right on about the place.  Lola Gaspar has a diverse menu that caters to everyone's taste and desires and a full service bar if you want to enjoy a cocktail or two.  I had the potato and mushroom tacos with the habanero sauce and they were absolutely delicious.  Everyone's food looked absolutely incredible and we all left quite satified with our dining experience there.
Monday thru Friday they have "Siesta Hour" $3 drinks and Sunday thru Thursday they have late night taco specials after 10PM.  The atmosphere is more geared for adults than families with children and you can enjoy your dining experience at the bar, inside at one of the indoor tables our enjoy the ambiance in their outdoor seating area.  You can even get your food to go if you are in a hurry.
The menu at Lola Gaspar is moderately priced with most entrees going for between $11 and $30 and the service there is absolutely terrific with a friendly staff.   They have a big screen television near the bar so you'll be able to catch your favorite sporting event while enjoying a drink or a delicious bite to eat.
Lola Gaspar is located at 211 W. 2nd Street in the Artist Village.  It is in the courtyard just east of the Memphis at the Santora.  Hours of operation are Monday thru Friday 11:00 AM – 2:00 AM and Saturday and Sunday 5:00 PM – 2:00 AM.  If you have any questions you can call them at (714) 972-1172.
Lets all do our part to create a new Santa Ana and we can start by patronizing our local businesses.  Try Lola Gaspar today and I am quite sure you won't be disappointed.