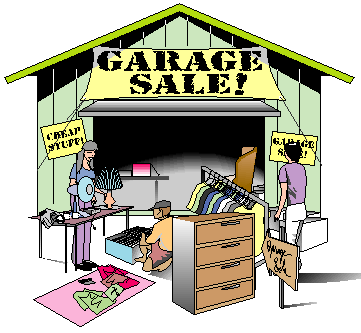 One of my readers suggested recently that we need to take a second look at the City of Santa Ana's garage sale policy.  As he pointed out, we went from 52 possible garage sale weekends to only 4, when the ordinance was changed awhile back.
I think he has a point.  He also had this to say, "Especially in light of the economy, with foreclosures and job losses our 4 garage sale policy is OUT-OF-TOUCH with reality. Garage sales are a good source for people who are struggling to buy clothes, toys, appliances etc. It's also an extra hardship on those who have to move, if they miss the "approved week-end" they are forced to give their stuff away."
We have a garage sale weekend coming up this weekend in fact, on September 5 and 6.  But who would schedule this on a holiday weekend?  That too seems misguided.
You can read the City's official garage sale policy at this link.
So what do you think?  Is it time to revisit this policy and perhaps allow a garage sale the first weekend of EVERY month?
I think we have some caring, compassionate City Council Members who might help us.  Councilwoman Michele Martinez grew up poor in a home affected by drugs and gangs.  Councilman David Benavides was once a youth minister.  Councilman Sal Tinajero lost his father to violence and is a teacher.  They would be a good place to start.  And Council Members Claudia Alvarez and Vince Sarmiento are smart and experience in community affairs.  They too should hear from us.
Click here for information on how to contact each of our Council Members.