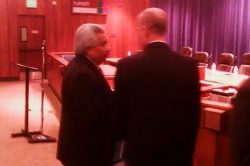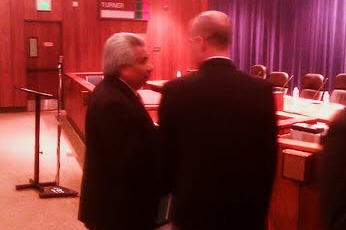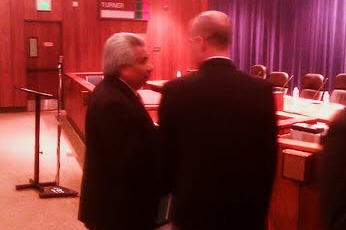 Santa Ana mayoral challengers Alfredo Amezcua and Charles Hart
Santa Ana Mayoral candidate Charles Hart clearly outshined the other mayoral challengers at last night's Com Link City Council candidates forum.
Hart explained in his opening statements that he has worked for seven years at the County of Orange, first in the Sheriff's Department and now in the Health Care Agency.
He said the top issues are safety, unfriendly business environment, and our schools.
He said that our local Enterprise Zone has had a negative growth rate – and that we failed to attract businesses even with tax cuts.  He said that there is no limit on taxes on businesses after the first year.  He talked about transparency and mentioned specifically Councilman Benavides and his monthly meetings with residents.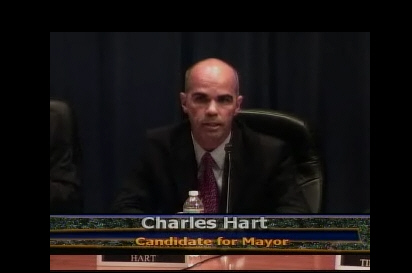 He said we need to "chop from the top."  Hart said he would cut, for example, Code Enforcement middle managers.  He mentioned that the Health Care Agency did that, and that they got rid of middle managers.  He however somehow hung on to his job even though he has no background or education in health care.  He also said he has a good, well-paying job.  I am sure he does.  And we the taxpayers are footing the bill.
Hart reiterated his belief that we need to return Santa Ana to some mythical past heyday.  Hart, who is a County of Orange Health Care Agency middle manager, also blasted Mayor Miguel Pulido over his compensation and said he would reject City health care benefits.  But doesn't Hart already get great benefits, at taxpayer expense, as a government worker?  I can only imagine what his public pension will amount to.  And if he gets elected Mayor, he will be just another double-dipper – augmenting his County pension with a City pension.
Hart received loud applause all night, whereas his opponent, Alfredo Amezcua, had a few of his volunteers there but received mostly tepid response to his statements.
Hart was assertive all night, and at times seemed angry, but he maintained control of himself.  I can only imagine what Thomas Gordon would have said last night had he been up there as a Ward 6 challenger.  As our readers know, he failed to qualify for the ballot after not collecting enough signatures.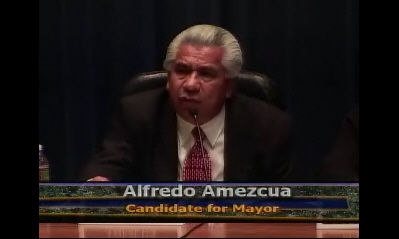 Amezcua's main point appeared to be that he is mad at the current administration and we can trust him to be different.  However, he famously walked away from his last elected position as a member of the Rancho Santiago Community College District's Board of Education and has yet to explain exactly why he did that.
Amezcua also spoke about transparency, but when he was on the RSCCD board, I had to complain because none of the board members offered their contact information on their websites.  It was only after I complained that they added email addresses to their bio pages.
Amezcua, in his opening comments, said he was homegrown and he went to local schools.  He said he is committed to the city.  He mentioned that he served for almost seven years on the RSCCD board.  He said that the city has changed and that he has decided to become a candidate because we "need a leader with vision and boldness."
Amezcua talked at length about how we have the highest unemployment rate.  He also talked about the foreclosure crisis.  And he said he would be accountable to the residents.
He also addressed public safety and talked about setting up "public safety districts."  He said he will bring back community policing.  He did not mention that as a criminal defense attorney he has defended the very same gang members that he is now trying to protect us from.
All of the candidates weighed in on how to improve our local economy.  Amezcua talked about how he would be fiscally responsible and about the importance of city reserves, yet look at how his Santa Ana Business Bank fared.  No bueno!
Amezcua also said something about taking a pay cut in his first year.
He also said the best thing happening in Santa Ana is change.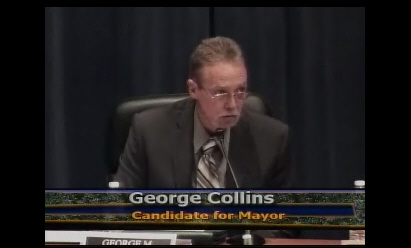 Mayoral challenger George Collins said that his idea for filling the city's coffers is to tax wire transfers to foreign countries.  So he essentially wants to tax poor people who are sending hard-earned money to even poorer people.  That sure seems heartless to me.  Ironically Collins mentioned the city's diversity as a positive, but that idea is incongruous with his wire transfer tax proposal.
He did get a laugh when he talked about "stopping the scheming" at City Hall.
Sadly for Collins, most if not all of the Usual Suspects are not going to vote for him.  They made it clear last night that Hart is their man.  In fact one of them told me they are all very angry at Collins for jumping into the fray.  Collins may end up dividing the vote and costing Hart any chance he had at winning.
Collins also said, in his opening statement, that we need to return Santa Ana to the "Golden City," that it was 25 years ago.  He talked about removing the "cloud of corruption."  He said the demographics are changing and he will work with each culture that comes in so they feel welcome.
Collins talked about the police department and he said that the bilingual hiring requirement is stopping the department from hiring new cops.  That is not true of course.  Our city has no money to hire new cops.  The bilingual department has nothing to do with this.
Collins also said he would find a way to use redevelopment money to hire cops.
Collins said the best thing in Santa Ana is the opportunity for change in leadership.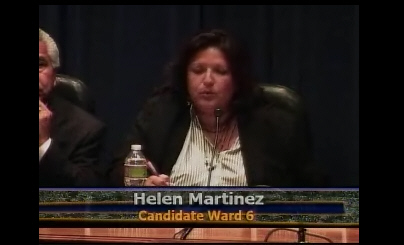 Ward 6 challengers Nam Pham and Helen Martinez were once again disasters.  Poor Pham started the evening as the first candidate to speak – and he did so with his microphone off.  It was downhill from there.
Martinez focused on public safety in her opening comments. She once again talked about being business-friendly.  She said also that she wants to promote "volunteerism."  Like Hart, she talked about returning Santa Ana to the "beautiful city" it once was.
Martinez stressed the need to bring in new businesses to our city.
Martinez said the best thing in Santa Ana is all the candidates trying to bring change to our city.
She also set off a round of groans when she said that taxes are costing us an "arm and a leg" then held up her left arm, which appears to have been amputated below the shoulder, and said she can attest to that personally.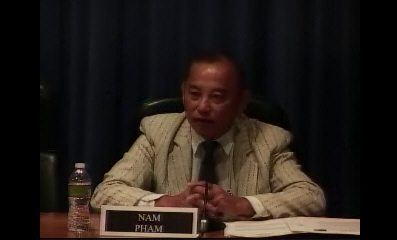 Pham said the best thing in Santa Ana is the mixed races.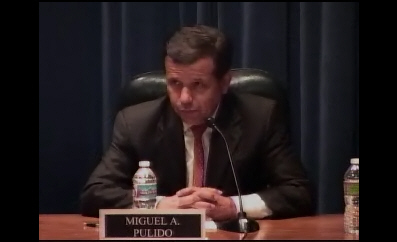 Mayor Miguel Pulido was his usual eloquent self.  He addressed the city budget in his opening comments.  He said we are living within our means; we balanced our budget; and we have negotiated new contracts with the city employees.  He added that we are not going to lay off any more city workers in the next 18 months.  He said that public safety is our number one goal.  He mentioned that crime is never resolved but we are making progress.  He talked also about the newly paved city streets, and explained that the City Council recycled the current street material.  Over 260 miles have been repaved or are in the process of being repaved.  Pulido also said that we are leading the nation in green jobs.  He said that 6% of our city's employment is in that sector.
Pulido told me afterwards that he enjoyed the opportunity to debate his opponents.  He focused in his comments on talking about the many positive changes that his Council majority has brought forward over the past few years.  He also talked about the importance of voting for Prop. 22, which will protect city coffers from being raided by the state.
Pulido also talked about his three kids, who are in local public schools.  He mentioned the many successes the city has had working closely with the SAUSD School Board.  He has helped the district to acquire land for several of their newest schools, over the years.
Pulido closed by talking about how the police and fire unions have endorsed him, and he said he never puts his head down when he talks about Santa Ana.  That starkly contrasted with the challengers, who all took turns maligning our city.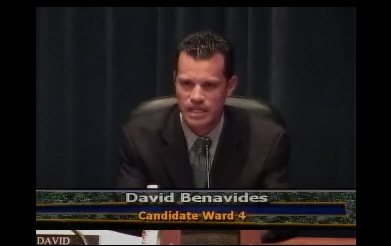 Councilman David Benavides acknowledged in his opening statement that he is running unopposed.  He talked about his availability and he, like Pulido, talked about the street repairs.  He also talked about his monthly meetings with residents.
He said the best thing in Santa Ana is our downtown, our diversity and our youth.
Councilman Sal Tinajero talked about education in his opening comments.  He mentioned that he has been a volunteer since he was 15.  He used to coach at Valley Little League.  One of the kids he coached, Erasmo Ramirez, went on to the major leagues and he now lives here in town, where he serves as the coach at Segerstrom.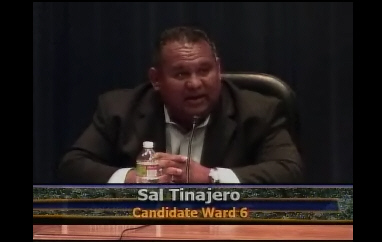 Tinajero said he only knew four English words when he entered kindergarten, tomato, tomorrow, yes and no.  He talked about the teachers who made a difference in his life and his work as a teacher and past school board member.  He won the national Hispanic Teacher of the Year Award in 2006, and his school recently won a Golden Bell Award.  He also talked about the debate program he runs in Fullerton, which has been a huge success.
Tinajero also talked about how so many kids in the city live in apartments where there is no area for recreation.  Like the other candidates he talked about working with the school district to open up more green space for the kids to play in.
Tinajero also spoke about transparency and he said that he worked with Councilman Vince Sarmiento to put up all the city payroll information online after the Bell scandal broke. He also mentioned a mistake he made recently receiving a campaign check.  He said he sent out a press release right away.  He mentioned everything was on record for everyone to see.
He said the best thing in Santa Ana is our street repairs and school construction.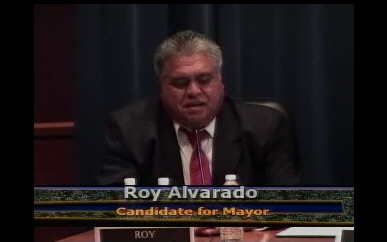 Mayoral challenger Roy Alvarado said he has been here in town for over 30 years.  He said he has volunteered a lot.  He talked about keeping one foot in the past and one in the future.  He said he will reach out to the people and do something about permits and such.
Alvarado stressed that he is a union member and that we should not put the finger on labor.  He said that we need union members and are at risk if we hire "hamburger-turners" to do their jobs.
You can watch the forum for yourself online at this link, however the site does not list the scheduled air times.