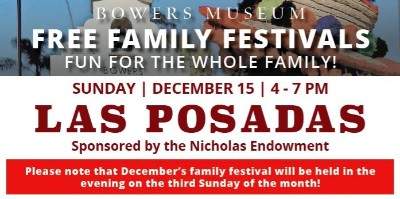 Bowers Museum will be hosting its Las Posadas Festival On Sunday, Dec. 15, from 4 to 7 p.m.
The museum is located at 2002 N. Main St., Santa Ana.
This is a free family festival celebrating a traditional Mexican Christmas re-enactment of Mary and Joseph's story as they seek shelter for the birth of the Baby Jesus at an inn (posada). The event includes face painting, art projects and delicious Mexican hot chocolate and pan dulce.
There will be live performances by Rhythmo Mariachi Kids, Orange County Children's Therapeutic Arts Center and Folklorico Raices de Mexico.
Event Schedule
4-7 p.m.: Face painting and Gods Eyes Ornament art projects
4-5 p.m.: Guitar performance by Joel Aceves
4:20 p.m.: Posadas begins, accompanied by Orange County Children's Therapeutic Arts Center
5 p.m.: Pinata Breaking
5:20 p.m.: Folkorico Raices de Mexico perform
6 p.m.: Rhythmo Mariachi Kids perform
Please note that the museum galleries will be closed during the event. For more information, follow Bowers Museum on Facebook, Instagram and Twitter and check out their website, www.bowers.org