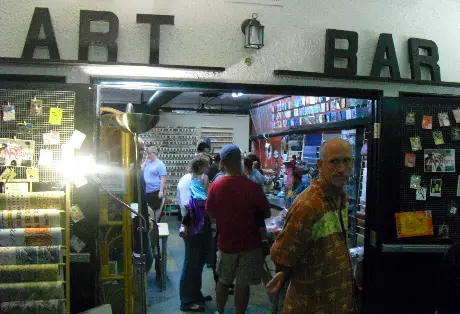 When I first heard that an Artists Village was going to be created in downtown Santa Ana, I had my doubts.  I had never heard of such a place being created artificially by a city.  I was quite familiar with the Melrose District, a place where the arts sprang up unbidden.  Generally when this happens it does so in areas that are somewhat dilapidated.  But, eventually these areas become gentrified, and the artists get squeezed out.
So the Artists Village concept worried me.  I wondered if it was just an exercise in gentrification.  I wondered how the artists would be able to become financially self-supporting.  Now, many years later, some of those worries have returned.
Don't get me wrong, Downtown Santa Ana is thriving.  But many of the artists are struggling to survive.  Some of the artists have fallen behind on their rent.  And many of them are beginning to get disgruntled, over a number of issues.
The Voice of OC published a post on Wednesday, about one of the artists at the Santora, Matthew Southgate.  I have been working with him to help start up an organization to represent the interests of the artists.
In the Voice of OC post, Southgate appears to be quite angry.  He is actually a pretty mellow guy, but he is indeed perturbed about a few things, as are many of his peers.
But will that anger result in any positive changes?  I think not.  The problem is that the artists have no leverage.  Founding their own organization will help, but they need to become a non-profit organization as soon as possible.   And they need to stay positive instead of going negative.
I do think the artists can thrive in Downtown Santa Ana, but not if they continue to engage in business as usual.  For the artists to survive, I think they are going to have to look at a few new ideas, including:
Gaining non-profit status for their association, so they can apply for government grants, including CDBG grants.
Find a way to work with the folks at Downtown, Inc. and the Downtown Santa Ana Restaurant Association.  These folks are all about bringing people with money to spend to the Artists Village.  How in the world is that a bad thing?  Join them at the table and be sure to add your voices to the mix.  Tossing stones at them will accomplish nothing.
Find a way to work with the City of Santa Ana's administrators and local elected officials.  Attacking them is just going to anger them.  There are good people at City Hall.  It is time for diplomacy, not guerra!  And forget about working with Alfredo Amezcua.  He was soundly rejected by the voters this year.  Work with Mayor Miguel Pulido.  He has always been a patron of the arts.  His son goes to OCHSA.  Pulido is himself a musician.  He is married to a writer.  He is your friend, not your enemy!
Find a way to work with Mike Harrah.  He has contributed a lot to the Artists Village, yet many artists readily attack him and don't cut him any slack.  He is a businessman.  He has a right to make a profit.  Why attack him?  That is just nonsense! So he is advertising Original Mike's on the Santora Building.  Perhaps the sign is ugly – I don't know as I have not seen it – but he has invested a ton of money in that restaurant.  I cannot blame him for wanting to market it.  Harrah is currently allowing many artists to stay at the Santora even though they owe back-rent.  The guy deserves kudos for that, not slaps to the face!
Why not have a Faces of Harrah event?  Get everyone to paint a unique Harrah portrait and sell them to raise money to help the artists who are struggling.  He is a good sport.  I bet he would show up to the event and pose for pictures.  He could cater the event with food from Original Mike's!
Partner with local education organizations and get involved with existing non-profits that help to expose taggers to the arts.  They may discover the next Diego Rivera or Frida Kahlo!
Develop a marketing fund so they can buy advertising targeting architects, interior designers and corporate buyers (such as the folks that buy artwork for hotels).  And make use of free marketing tools.  Every artist in Santa Ana should have a Facebook page and a Twitter feed, just for starters.  They also should load pictures of all their products in a Flickr feed, or use Google Picasa.
Start a "Friends of the Artists Village" organization so Santa Ana residents can pitch in to help – they could buy annual memberships for a low price, such as $25, receiving a monthly newsletter, a t-shirt, a bumper sticker and invites to exclusive member-only events.
How about taking the Santa Ana Artists Village on tour?  Get a van and go set up exhibits throughout the County.  Let folks outside the city know who you are, what you do, and where they can go to meet you and buy your products on a regular basis!
Organize a Santa Ana international food festival, like the one that has been such a success in Orange for so many years.  We are the most culturally diverse city in Orange County.  Surely we can pull this off!  And it would bring a lot of folks to our downtown area.  How about a Viet-Mex Festival?  Wouldn't that be something!
Actually, why not a Tet Festival too?
And why not an annual Gay Rights event?  A big one with musical acts, stage performances, performance art, and food vendors.  Money raised could go to AIDS research.
How about setting up a program to exhibit artwork produced by local artists in prominent Santa Ana businesses and organizations?  Let's put some local art in the O.C. Register's lobby; and throughout the MainPlace Mall; and at the CityPlace, and at the Hutton Centre – and at local restaurants.
How about working to convince the City of Santa Ana to allow tattoo shops and Hookah bars in our downtown area?  We need edgier businesses like that to bring more patrons to our downtown!
How about partnering with El Centro Cultural de Mexico on a few joint projects and events?  How about starting an artist exchange program with artists in Mexico?
And when are we bringing Lucha Libre to Downtown Santa Ana?
If the artists are to survive at our Artists Village we all need to pitch in and help them.  Mention their products to your friends at work.  Link to their Facebook pages and websites.  Promote them in social media.   Join the Friends of the Artists Village.  Don't just sit there and watch them fade away.  They are and should remain a vital part of Downtown Santa Ana.