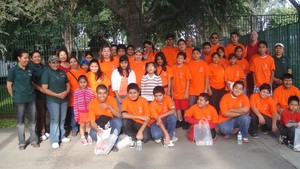 FOR IMMEDIATE RELEASE
Contact: Angela Burrell, APR, 714-558-5555
Camino de Amistad Scheduled to Promote High School Registration in Santa Ana
SANTA ANA, CA – August 4, 2011 – To spread the word about high school registration dates in preparation for the first day of instruction on August 24, Santa Ana Unified School District (SAUSD) in partnership with Padres Promotores de la Educación will host the annual Camino de Amistad (Friendship Walk) on Saturday, August 6 beginning at 8 a.m. More than 200 secondary school parents, their children and supporters will fan out from SAUSD's comprehensive high schools to disseminate 20,000 promotional door hangers containing important information for high school students and their parents to be aware of for the coming 2011-12 school year. High school registration dates span the week of August 8 through August 15. Students are invited to contact their respective school for specific dates and times based on their grade level as follows:
Century High School
714-568-7091, Administration Bldg., Room 100
Godinez Fundamental High School:
714-433-6705, Higher Education Center
Saddleback High School
714-513-2908, Higher Education Center
Santa Ana High School
714-567-4910, Counseling and Career Center
Segerstrom High School
714-241-5010, Higher Education Center
Valley High School
714-241-6420, Higher Education Center
"Now more than ever, parent participation at the local high schools and intermediate schools is of utmost importance. The message delivered by parent volunteers through Camino de Amistad is an invitation to become involved and stay involved, to communicate with teachers, to stay informed about school meetings and events, and to remain vigilant about test scores, credits, and requirements to go to college," said Patricia Gomez, SAUSD parent coordinator.
Padres Promotores de la Educación is a grassroots program for parents, by parents with a core mission to deliver information about early preparation and options for higher education with the goal of increasing the number of Santa Ana youth who go to college. The organization is sponsored by the Santa Ana Partnership, a collaboration among SAUSD; Santa Ana College; University of California, Fullerton; and University of California, Irvine. More information about Padres Promotores de la Educación can be obtained by calling 714-564-6450.
Santa Ana Unified School District (SAUSD) educates approximately 58,000 students at 61 dynamic school sites throughout the Santa Ana community. The K-12 school district is the largest in Orange County and the second largest employer in Santa Ana, with approximately 4,500 educators and staff members. The school district boasts 28 California Distinguished Schools, five National Blue Ribbon Schools, and two 2011 National Blue Ribbon nominees. In addition, Saddleback High, Valley High and Santa Ana High School were named as three of the most improved high schools in Orange County for students passing the California High School Exit Exam. Contact us at 714-558-5555, or pioinfo@sausd.us.
For more information about our schools, visit www.sausd.us.
###