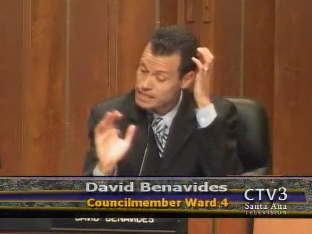 A clearly chastened Santa Ana Council Member Carlos Bustamante returned to work tonight, showing up to the City Council meeting so that he could join his longtime friend and Council ally David Benavides in supporting the unethical PBID tax.  Benavides is also a mayoral candidate this year.
Bustamante's presence allowed the City Council to discuss the PBID.  Only two other Council Members could participate in that discussion – Mayor Pro Tem Claudia Alvarez, who capably presided, and Council Member Sal Tinajero.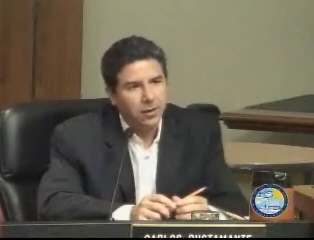 Alvarez moved several times to outright kill the PBID and Benavides voted to keep it intact, over and over, joined by Bustamante.  Finally all four voted unanimously to hold a PBID town hall meeting.
Shame on Benavides and Bustamante for continuing to support a tax that robs one set of Downtown Santa Ana businesses so that the bars and restaurants can market themselves.
Alvarez and Tinajero did the right thing by standing against the PBID tax.