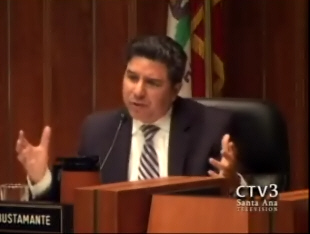 "The initial inquiry into Bustamante's behavior was prompted by an anonymous letter to county officials received after a female employee allegedly walked in on Bustamante and another female employee having sexual relations in a conference room," according to the Voice of OC.
Remember that Bustamante has a degree in H.R.  He knew better than to engage in such behavior in the workplace, but he did it, allegedly, anyway.
I am hearing from insiders at the City of Santa Ana and the County of Orange that Bustamante has been under investigation for a long time – perhaps as long as three months – and that it finally got to be too much for his biggest supporter, Assistant County CEO Rob Richardson, to cover up.
The word is that Bustamante is going to out those who have been covering up for him.  That could be a very long list indeed.  Will that list include Supervisor Janet Nguyen?  We'll see.
If all this is true it means that Bustamante attacked Santa Ana Mayor Pro Tem Claudia Alvarez at the last Council meeting even though he knew that a sword was already dangling over his own head.  Remember that he tried to bring up her job at the O.C. District Attorney's office and she quickly said that he didn't want to start talking about where HE worked.  I think she knew that he was already under investigation.
The next Santa Ana City Council meeting is this Monday.  I am being told that the City Council is going to demand that Bustamante resign.  The leading candidate to replace Bustamante is the Chair of the Santa Ana Planning Commission, Eric Alderete.
That would only be fair as Alderete was overlooked by the supposed Democrats on the Rancho Santiago Community College Board of Education, when they opted to replace Republican Lisa Woolery, who suddenly retired from their Board, with Arianna Barrios, an "independent" who was backed by a slew of Republicans when she ran for the Orange Unified School District's Board of Education.
The Voice of OC also reported what we reported earlier – it is likely that Bustamante is done working for the County of Orange.
I suspect that before this is over we will be hearing from a lot of Bustmante's alleged paramours.  He may turn out to be the Tiger Woods of Santa Ana.