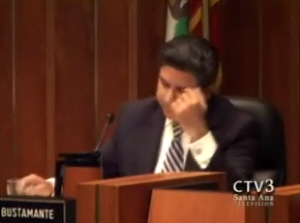 What penalties does Santa Ana Councilman Carlos Bustamante face – if the harassment charges against him stick?  Well, the bad news for him is that the harassment penalties in California are the toughest in the nation – and he could face big fines – but the County of Orange could be on the hook for even bigger penalties, as his employer.
Here is an explanation of what constitutes sexual harassment, in California, from an online legal source:
Sexual harassment is a form of gender discrimination.  "Quid pro quo" harassment, occurs when any employee offers any job benefit, or threatens any job detriment, in exchange for sexual favors. In lay terms, this means that any time an employee promises, either expressly or impliedly, that career advancement may be linked to dating or sex, the law has been violated. However, unless the harasser is a supervisory employee, the Company would not be liable unless it knew of the harassment, or should have known.

As a practical matter, you may show that the Company knew or should have known of the harassment by demonstrating that it was so pervasive, i.e., frequent, that the company had to know. You may also establish the company's knowledge by showing that the harasser had committed similar offenses previously. Certainly, if you or any other employee had previously complained to any supervisor, the company would be held responsible.
Employer penalties for sexual harassment
Title VII of the Civil Rights Act prohibits sexual harassment as a form of illegal sex discrimination. If an employer is found guilty of failing to stop sexual harassment, the law permits the following penalties:
Lost wages. Payments to cover wages and benefits a victim would have earned from the date of the harassment to the date of the trial or settlement.
Future lost wages. Payments to cover wages and benefits a victim would have earned if there had never been a sexual harassment charge.
Compensatory damages. Payments for emotional pain and anguish.
Punitive damages. Payments to punish the employer.
Attorney costs and court fees.
Reinstatement or promotion for victim.
Both public and private employers with at least 15 employees must uphold federal law.
Check out these examples of past sexual harassment cases in California, to see what the County of Orange and Bustamante might be facing:
A female school bus driver was sexually harassed by her male supervisor over a period of six months. In one instance, the supervisor handed her his pubic hairs. As a result of the harassment, the plaintiff suffered psychological problems for the next year and a half.  The plaintiff brought a hostile environment sexual harassment lawsuit against the school district and her supervisor. A jury found that the plaintiff had been subjected to a sexually hostile work environment. The jury awarded the plaintiff $400,000 in compensatory damages and $32,500 in punitive damages. An appeals court later upheld the award.
A female plaintiff was sexually harassed by her supervisor, an operations manager. The plaintiff alleges that at weekly work meetings the supervisor kissed her and asked her questions of a sexual nature. She also alleges that she was treated unfavorably after rejecting his advances. For example, she was denied days off, experienced delays in receiving her paycheck, and had her shift changed to a less desirable time. The plaintiff complained to her supervisor and an upper level manager. The upper level manager reportedly told her, "Do you want really to do this? Because you're going to get [the supervisor] in trouble."  The plaintiff filed a sexual harassment and retaliation lawsuit against her employer. The jury found for the plaintiff and awarded her $3 million, which the court reduced to $850,000 due to statutory caps on certain kinds of damages.
A police officer in Puerto Rico was awarded more than $1 million by a federal jury based on her claims that she was subjected to sexual harassment, retaliation, and violation of due process. The officer claimed that she was sexually harassed by a fellow officer. Although her initial report stopped the harassment briefly, subsequent reports resulted in continued inappropriate conduct and retaliation, including reassignment to less favorable posts and threats of being laid off. The jury award included compensatory damages under federal law of $250,000 and compensatory damages under state law of $250,000, plus damages against the individual alleged harasser of $80,000. Under state law, the compensatory damages were doubled to raise the total amount to just over $1 million. The officer was also reinstated to her former position. The jury award was affirmed on appeal by the United States Court of Appeals for the First Circuit.
A jury in California awarded a male employee $1.62 million based on his claims of sexual harassment and retaliation. The male employee alleged that he was subjected to repeated sexual harassment by his male supervisor. The supervisor's alleged behavior included requiring the employee to go to strip clubs and attend events with prostitutes, showing him pornographic pictures, and describing to the employee sexual acts he wanted to engage in with various female employees and his daughter's friends. The employee claimed that he raised internal complaints about the behavior, but the company ignored his complaints. His employment was subsequently terminated.
A female plaintiff worked as a hostess at a restaurant owned by a married couple. The husband frequently harassed the plaintiff by rubbing his body against hers, attempting to kiss her, and making comments of a sexual nature to her. The plaintiff complained, but the employer did not investigate her complaint. On one occasion, the husband attacked the plaintiff. He trapped her in his office, removed his clothes, and placed her hand on his sexual parts. After this attack, the plaintiff suffered from depression and was diagnosed with post-traumatic stress disorder. The plaintiff complained to a manager about the attack and refused to return to work. The wife, who served as Human Resources director, investigated but allowed her husband to sit in on the employee interviews. The plaintiff filed a lawsuit against the restaurant and male owner for, among other things, sexual harassment. A jury awarded the plaintiff over $3.9 million. An appeals court later ruled that the award was reasonable given the husband's outrageous conduct.