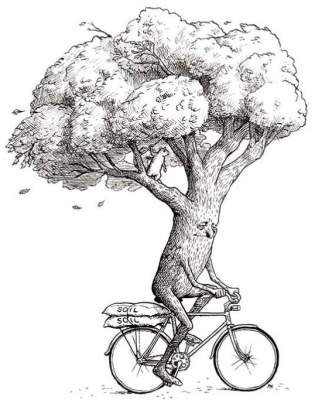 The Bicycle Tree is teaming up with Naturalist for You to bring together two of our favorite things – biking and hiking, on Sunday, June 9th at 9:00 am.  We will meet up in the plaza outside Mother's Market Santa Ana. Join us for an easy-paced 8 mile ride (16 miles round trip), mostly on the Santiago Creek bike path, which will take us to Santiago Oaks Regional Park, where a wise naturalist from Naturalist for You will lead us on an easy-paced guided tour of the park.
Learn about native plants, geology, and wildlife, even a little local history, while enjoying the beauty of Santiago Oaks park! The overall physical challenge of the trip is moderate. Be sure to pack water and snacks. A Bicycle Tree volunteer will stay with the bikes as a precaution during the hike. We will leave the park at around noon to return by 1:00 pm.
Our exact route can be found at http://veloroutes.org/r/97777
Naturalist for You: http://www.naturalist-for-you.org/
Santiago Oaks Regional Park: http://ocparks.com/parks/santiago/
We suggest a donation of $5 – $10 per person but no one will be turned away for lack of funds.
**Please RSVP by sending an email with your name and contact info to info@thebicycletree.org
Attendance is limited to 20 people. If you are on the waiting list or you do not RSVP, it will be first come, first served. If we get more than 20 people we'll unfortunately only be able to host the first 20 people who show up.