Thai Viet Phan, a woman who describes herself as a homeowner and long-time resident, has already announced her campaign for Ward 6 of the Santa Ana City Council, which will be up for grabs on May 19 when a Special Recall election will be held as the Santa Ana Police Officers Association tries to oust the Ward 6 incumbent, Ceci Iglesias.
Phan is Councilman Phil Bacerra's Planning Commissioner. She will also be on the 2020 Primary Election ballot as a candidate for the Democratic Party of Orange County's Central Committee.
Phan is an attorney at Rutan & Tucker. Phan received her Bachelor of Arts in Communication Studies from UCLA and her Master of Public Policy and Juris Doctor from USC. Phan was admitted to the California State Bar in 2016.
She was recently honored at the 46th Congressional District's Women of the Year Award presented by Congressmember Lou Correa. She is backing Garden Grove City Councilwoman Kim B. Nguyen for the First District of the O.C. Board of Supervisors, which we will be voting on in the March Primary Election.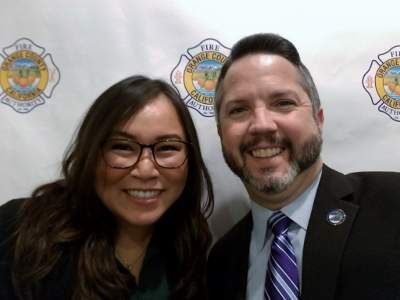 Here is Phan's campaign announcement, from her Facebook page:
In light of recent news regarding the recall, I am stepping up and announcing my candidacy for Santa Ana City Council in the upcoming special recall election. As a homeowner and long-time resident, I am committed and ready to make the tough calls to keep our neighborhoods safe and ensure housing and economic development that benefits all residents. Over the coming months, I look forward to talking directly with voters across the City to advance innovative ideas and policies to truly make Santa Ana the Golden City for all.
Phan appears to be pro-abortion – which is quite a contrast to current Ward 6 Councilwoman Ceci Iglesias, who is an outspoken Pro-Life activist, as noted in this picture from Phan's personal Facebook page: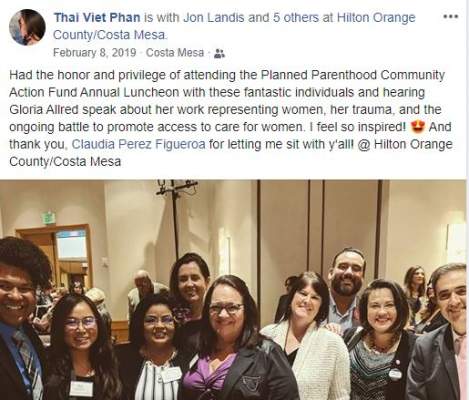 You can learn more about Phan on her campaign website, here.