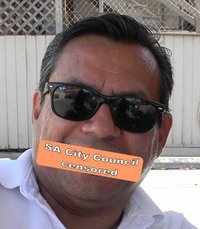 Censorship?  The State Attorney General doesn't think so!
Santa Ana Mayoral wannabe Alfredo Amezcua announced on Facebook this week that he had just appointed his photographer and mime, Ruben Alvarez to serve as his Campaign Field Operations Director.  If Alvarez was the one who cooked up Amezcua's latest fake scandal – accusing the Santa Ana City Council of censorship when they unanimously voted to turn off Albert Castillo's microphone a couple weeks ago, then perhaps Amezcua should fire Alvarez instead of promoting him.
I say that in the wake of today's news that the California Attorney General's Office has found no reason to take legal action against Santa Ana council, according to the O.C. Register.
That's right – the entire faux scandal was B.S.!
City rules "appropriately" require speakers to limit their comments to matters within the City Council's jurisdiction, Senior Assistant Attorney General Gary W. Schons wrote this week in response to a formal complaint about the incident.
That complaint was filed by a resident of Long Beach, who has apparently become quite interested in helping Amezcua with his ridiculous campaign.
The Council was advised to allow malcontents like Castillo to speak as long as their comments pertain to city business.  That is exactly what a City of Santa Ana statute already said!
Amezcua is clearly the biggest loser in this debacle, as is Alvarez who embarrassed himself at this week's meeting with an atrocious display of miming.
Amezcua previously tried to use an O.C. Grand Jury report that was tainted by a bitter former City Commissioner, Glen Stroud, who was booted off two City Commissions by the City Council.  That lame attempt to attack Mayor Pulido also failed.
Here's a thought Alfredo – why don't you tell us what the heck you plan to do as Mayor of Santa Ana, instead of resorting to lousy campaign gimmicks?