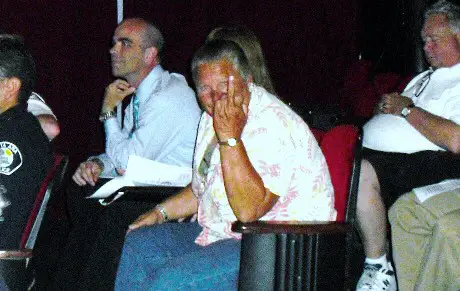 The Santa Ana Coalition for Better Government, a Political Action Committee, finally posted the members of their Board of  Directors tonight, on their website, after we prodded them to do so.  Here they are:
CURRENT BOARD OF DIRECTORS
President Arturo Lomeli – Downtown property owner: He is a dentist.  He also owns property in Downtown Santa Ana and leases out office space.  He is a Republican and he lives in wealthy Orange Park Acres.
John Acosta – Former Santa Ana mayor pro tem: Like Lomeli, Acosta is a Republican.  He served on the Santa Ana City Council many years ago.  He no longer lives in Santa Ana.
Jeff Dickman – Friends of Lacy neighborhood: Dickman was booted off the City of Santa Ana's Historical Resources Commission.  He led a lawsuit against the City of Santa Ana which cost taxpayers thousands of dollars and stuck us with dilapidated buildings that the City cannot even give away.
Albert Castillo – Chicano Unidos member: He used to be a staunch supporter of Mayor Miguel Pulido, back in the day.
Debbie McEwen – French Park resident: I believe she is a Republican, but am not sure.  That is her picture atop this post, flipping me the one finger salute, at a Santa Ana City Council meeting.  She is notorious for complaining about her Latino neighbors to the Santa Ana Code Enforcement Agency.  She led the charge to install illegal traffic barriers in her neighborhood, but was defeated by the ACLU.  They correctly surmised that the barriers were racist and illegal.
Valerie Amezcua – Morrison Park resident: She is the daughter of failed Mayoral candidate Alfredo Amezcua.  She lost a close race for the SAUSD School Board, to Roman Reyna, a couple years ago.
Luis Ortiz Franco – Los Amigos of Orange County
Gabriela Gonzalez – Community Volunteer
Raquel Lomeli – Downtown property owner: She is married to Art Lomeli.
Francisco Barragan – Business and community leader: He is a former Marine.  He belongs to quite a few community organizations.  He is also a CPA.  He used to write for this blog.  He drank the Amezcua Kool Aid unfortunately.
Alfredo Amezcua – Attorney/Business Property Owner: He got caught when he got elected to the Rancho Santiago Community College District – but was living in a different ward.  He resigned and later ran for Mayor of Santa Ana, last year, losing badly to Mayor Miguel Pulido, despite spending a quarter million dollars on his campaign.  He is a criminal defense attorney who has defended some of the worst drug dealers and gang bangers in Orange County, over the years.  It should be noted that he has also supported every major tax increase (via bond measures) that we have been stuck with here in Santa Ana, over the past decade.
There you go.  This organization appears to be a mixture of Republicans, malcontents, questionable politicians and litigious residents.  I have yet to see any concrete good ideas from these folks, but predictably they are making Code Enforcement a focus, which comes as no surprise given the involvement of McEwen on their Board.  Any organization that includes the likes of McEwen is not to be trusted by the people of Santa Ana, IMHO.