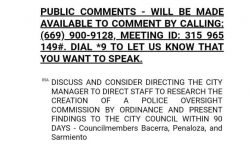 Santa Ana Councilmembers David Penaloza, Phil Bacerra, and Vincent Sarmiento have added an 85a item to the agenda for tomorrow night's Santa Ana City Council meeting regarding the creation of a Santa Ana Police Oversight Commission. Here is the agenda language:
DISCUSS AND CONSIDER DIRECTING THE CITY MANAGER TO DIRECT STAFF TO RESEARCH THE CREATION OF A POLICE OVERSIGHT COMMISSION BY ORDINANCE AND PRESENT FINDINGS TO THE CITY COUNCIL WITHIN 90 DAYS – Councilmembers Bacerra, Penaloza, and Sarmiento
Click here to read the entire City Council meeting agenda.
In related news an online petition is circulating advocating for not defunding the SAPD, at this link.
Three major police unions in California, including the L.A. Police Protective League, introduced a reform agenda Sunday to improve outcomes between police officers and their communities and "root out any racist individual" from their ranks, according to the San Francisco Chronicle.